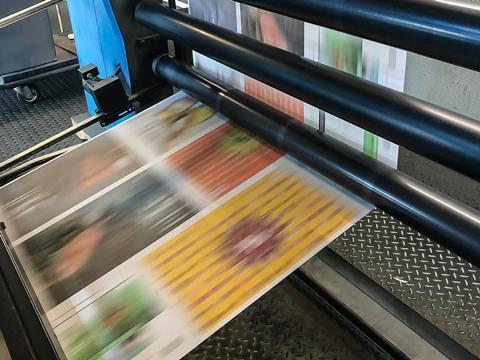 hubergroup Print Solutions is launching its first coldset and heatset inks for food-compliant paper packaging with the aim of facilitating dynamic brand customisation in recyclable packaging solutions.
The company notes that the demand for paper packaging is rising in the food sector and offers its low-migration, oil-free coldset MGA FOOD NEWS and heatset MGA EVOLUTION series of inks for industrial printing needs. While low-migration offset inks were previously reserved for sheetfed printing, hubergroup claims to utilise its own specific binder that enables their use in web offset printing.
"With the help of a special binder and the careful selection of raw materials as well as production methods, we have succeeded in developing the first low-migration and low-odour web offset inks," explains Thomas Stumpf, director of Web Offset at hubergroup. "As safety and sustainability are our top priorities, we worked closely with our sheetfed offset experts who have been developing inks for food packaging for many years."
Outside the laboratory, hubergroup also claims to have carried out practical testing with brand owners, printers, and special paper manufacturer DREWSEN – an effort reported to have facilitated four-colour printing in web offset for food-compliant paper packaging. This is expected to allow companies to print photorealistic designs, as well as an affordable and feasible process of changing a packaging design by season or region.
Applications for the inks are expected to include the packaging for baked goods, fast food, deli products, and more. They are reportedly compatible with all common coldset and heatset machines and printers are set to be supported by the hubergroup service team during the implementation process.
Back in 2021, Sun Chemical's SunPak DirectFood Plus inks joined the company's direct food contact SunPak range for sheetfed offset paper-based printing. The company also produced its FSR range of edible inkjet inks last year, which would reportedly enable direct printing onto food and pharmaceutical products.
WACKER's VINNOL L-6868 polymer resin binder will be unveiled at the European Coatings Show 2023; the solution is suitable for printing inks and compatible with food-grade packaging.