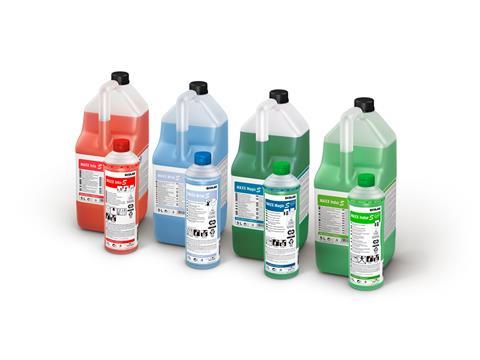 TotalEnergies and Ecolab have partnered to launch plastic packaging incorporating recycled material for heavy-use purposes.
This launch is the culmination of a close collaboration to introduce post-consumer recycled (PCR) plastic into primary packaging for highly concentrated cleaning products, starting with the supply of TotalEnergies RE:use rPE6314 grade – within the RE:clic portfolio of circular polymers - in the MAXX S range for Facility care.
"Delivering sustainable solutions without compromising on performance is instrumental in enlarging the market for recycled plastics. This collaboration with Ecolab is an excellent example of a value chain partnership aimed at enabling circularity for highly technical applications and it fully contributes to our ambition of producing 30% circular polymers by 2030," says Olivier Greiner of TotalEnergies.
"The collaboration with TotalEnergies proves once again how important it is to create innovative partnerships to provide the best solutions," adds Anja de Reus, VP Sustainability Europe at Ecolab. "At Ecolab, we are committed to continuously improving our packaging by offering our customers products that are designed to optimize the amount of plastic and minimize environmental impact. This is part of our commitment to provide every customer with an overall positive impact and deliver value."
TotalEnergies and Ecolab are of the belief that this latest innovation is fully aligned with the European dynamic in terms of circular economy for plastics. Indeed, at the European level, the companies say that they are in favour of regulatory changes, with the purpose of addressing the need for efficient and sustainable products.
The new product from the RE:use range – part of the RE:clic circular polymers portfolio – combines PCR with high-performing booster resin with the aim of enabling circularity while maintaining the same performance.
The companies hope that it can help to provide sustainable solutions for bottles and medium-size containers, for both solids and liquids. They claim that its chemical resistance, consistency, low odor and natural color make it "the best-performing, ready-to-use rHDPE grade for blow moulding applications."