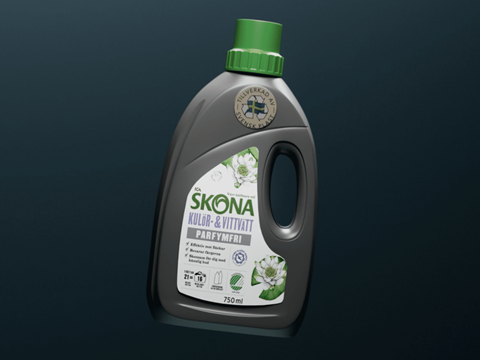 Swedish Plastic Recycling and ICA are working to collect and sort household plastic waste to produce bottles containing 95% recycled plastic for the SKONA detergent brand.
It is anticipated that Swedish consumers will dispose of their household waste in the relevant waste streams, where it will be sorted and separated into the relevant plastic types at Swedish Plastic Recycling's upcoming Site Zero facility. Aage Vestergaard Larsen A/S (AVL) are then expected to wash and granulate the material, at which point ICA and Nopa Nordic will produce the detergent bottle.
Site Zero is scheduled to begin operations in the autumn and is hoped to produce circular packaging from around ten different types of plastic in similar applications to the SKONA bottle.
"The new SKONA bottle paves the way for plastic packaging to now become part of the circular economy," says Mattias Philipsson, CEO of Swedish Plastic Recycling. "It illustrates the ideal image of the circular system that we are trying to build, where a used plastic package becomes a new plastic package. 
"This has been a very important project that will create a paradigm shift for plastic recycling. When we achieve circularity, we can minimise emissions from incineration and reduce the need for new plastic."
The new bottle is said to adhere to proposed revisions to the Packaging and Packaging Waste Directive in which all plastic packaging on the European market must contain recycled material by 2030. Additionally, according to Swedish Plastic Recycling, striving towards a circular system will give manufacturers access to the required levels of recycled material to reach the European Commission's target.
"With the SKONA bottle, we are ahead of the legislation and building a circular system and a market for recycled plastic raw material in Sweden," Philipsson continues. "It creates the conditions for our customers and Sweden to be able to reach set climate targets."
Incinerated plastic is thought to constitute 6-8% of Sweden's total carbon emissions, with the extraction of crude oils and the transport, refining, and production processes for new fossil plastics thought to be equally as damaging. Similarly, the UN estimates that the plastics industry is the world's fastest-growing source of industrial greenhouse gases and could account for 19% of the total CO2 budget in 2040.
The collaboration aims to enable a circular system for plastics and, by extension, cut down on the negative environmental impact of virgin materials.
"Within ICA, we have a strong focus on minimising packaging's environmental impact and contributing to more circular plastic flows," says Kerstin Lindvall, director of sustainability at ICA Gruppen. "Through our new SKONA bottle, we not only follow our own ambitions in increasing the use of recycled plastic, but also clearly show customers how their choice of product, and that they leave packaging for recycling, contributes to a more sustainable society and sustainable products. We think that will be very much appreciated."
"It is the circular way of thinking that is unique in this collaboration," concludes Mette Rothmann, sales manager Nopa Nordic A/S. "Letting household collected plastic be converted into new plastic packaging like this SKONA bottle is the optimal way to create a sustainable circular system."
In 2021, Swedish Plastic Recycling announced an investment of €98 million into the construction of the Site Zero facility, which it hopes will enable the CO2-free recycling of "practically all kinds of plastic packaging".
Another solution to reduce detergent-related waste saw Lidl partner with Algramo to trial in-store automated refill stations for liquid laundry detergents in smart HDPE bottles.
Furthermore, Reckitt and Mondi unveiled the launch of paper-based packaging for the dishwasher detergent brand Finish, aiming to reduce 2,000 tonnes of plastic per year.