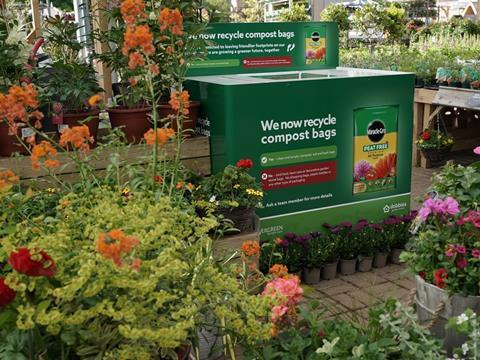 Veolia will collaborate with garden product brand Miracle-Gro and Dobbies Garden Centres to collect low-density polyethylene (LDPE) bags with the aim of reprocessing them into new products including garden furniture, plastic films, and new bags.
In the UK, plastic films are not collected at the kerbside in most areas with the sorting and recycling infrastructure not yet in place for these materials. Veolia says that the new service will provide a solution for the collection and recycling of post-consumer LDPE plastic bags for garden products.
According to Veolia, it has set up collection points across 81 Dobbies garden centres and a selection of other garden centre retailers. The solution involves wooden recycling boxes that consumers can take empty and clear compost plastic bags to for collection.
Veolia adds that the collection scheme follows a successful trial. The company says it is aiming to divert an estimated 40 million bags from landfill and will reportedly target an annual CO2 saving of 22,000 tonnes when scaled up nationally.
The company claims that the collected LDPE bags will be processed into new products such as furniture, plastic films, and new bags. Notably, reprocessing the LDPE bags into garden furniture could be considered downcycling, as these products are unlikely to be recycled themselves and this removes the material from packaging value chains.
Keith Leonard, technical and performance director at Veolia UK and Ireland, comments: "Our route to carbon net zero and the circular economy means we have to look at new and innovative solutions to capture materials and re-use them, rather than relying on finite virgin resources. By effectively capturing these bags we will be able to process them into new sustainable products that will help the nation's gardeners, and boost a green recovery."
Marcus Eyles, horticultural director at Dobbies, adds: "Anyone can bring in any compost packaging, no matter what brand or where it was purchased, and place it in the dedicated recycling bins. It has been so positive to see the success of the scheme, and with this expansion we are looking forward to widening access for gardeners across the UK and increasing the positive impact of the project."
Jane Hartley, sustainability marketing manager from Miracle-Gro, says: "Over the last three years we have been working to ensure that more recycled content is in our compost bags, since we recognise the importance to reduce our reliance on virgin plastic. In Miracle-Gro, the leading gardening brand, we have increased recycled content to 80% for example. However, we face a challenge that despite our best effort there is no recycling scheme in place for consumers to dispose of these single use compost bags.
"Working with Dobbies and Veolia I wanted to introduce an industry wide collection scheme where all manufacturers bags could be recycled, and in doing so reverse this trend. Consumer response has been very positive and we have found that consumers will bring several bags to the bins, with bins filling up fast. We are monitoring contamination but so far it's good quality material.
"We have had interest from a number of retailers who want to set up similar schemes."