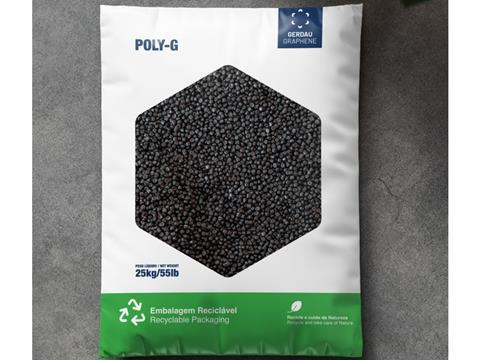 Gerdau Graphene has released a graphene-enhanced Poly-G PE-07GM polyethylene masterbatch in a reported world first, with Japanese conglomerate Sumitomo Corporation set to distribute the product on the Japanese market.
Reportedly suitable for the production of films, profiles, and sheets through the extrusion process, the Poly-G PE-07GM additive is said to enhance strength and performance in its resultant packaging solutions while reducing manufacturing costs and waste generated across its value chain.
According to Gerdau Graphene, the additive was piloted in various industrial applications at its factories before the additive was commercialised. One application as a film for construction nail packaging saw that the film, apparently 25% thinner than other polyethylene solutions, lowered the volume of packaging damaged and discarded by 39% due to reduced perforation, as well as facilitating a 7% increase in film productivity.
Other benefits include improving the mechanical and thermal properties and processability of polyethylene. Improved gas barrier properties, a reduction in the coefficient of friction (COF), and higher UV resistance, thermal stability, thermal and electrical conductivity, stiffness, and tensile strength are also listed as benefits achieved by adding graphene to polyethylene.
It is thought that reducing the amount of raw material used to create polyethylene and polypropylene products by 30% could save around 9.3 million tons of plastic from being consumed and discarded every year – an effort that Poly-G PE-07GM and Gerdau Graphene's other graphene-based thermoplastic additives hope to contribute to.
"Thermoplastics such as polyethylene are critical to most commercial business operations around the world, particularly in retail, logistics, and industrial environments. Improving the material qualities of polyethylene has a meaningful impact on its sustainability in addition to cutting down on costs," said Alexandre Corrêa, CEO of Gerdau Graphene. "By adding specialized graphene additives to thermoplastic recipes, plastic producers can create stronger, more durable plastic products at lower cost and with far less virgin resin needed.
"Lower consumption of virgin resin means that less plastic becomes post-consumer waste, improving the overall sustainability of the final product developed. There are also downstream effects, including reductions in manufacturing waste, energy consumption, transportation, and more. And, circularly, we believe that soon plastics may be recycled into graphene and then reused."
Additionally, the company has announced a partnership with Fortune 500 global trading and business investment company Sumitomo Corporation (SC) to import and distribute Poly-G PE-07GM masterbatches to customers on the Japanese market.
"We are thrilled to announce our recent partnership with SC, a renowned trading house in Japan and partner to Gerdau in business ventures in Brazil, to export our masterbatches to the Japanese market," Corrêa continued. "This collaboration represents a significant milestone for our company, as SC's history and reputation speak to the quality and value of our products.
"Opening the Japanese market is a strategic move for us, as it is known for its attention to high-quality materials and is a mature market in terms of industry expertise. We are confident that our masterbatches will be well-received by the Japanese market and we look forward to building a long-lasting relationship with SC and brand owners and convertors in Japan."
"We are excited to partner with Gerdau Graphene to bring their high-quality graphene enhanced masterbatches to the Japanese market," added Naoyuki Tokunaga, general manager of the Carbon Department at SC. "We have been studying the graphene market for several years and are impressed with the R&D developments and speed to market executed by Gerdau Graphene so far. In the past years there has been a strong drive for sustainability in Japan, and we believe graphene additives will be a key material to support our local customers in bringing better products to the local market."
Early last year, OCSiAl unveiled a line of graphene nanotube dispersions for thin conductive films and packaging to provide water-based dispersions with low solid content.
Meanwhile, Sukano has entered an exclusive partnership with tide ocean SA to provide additive and colour masterbatches for its #tide ocean-bound rPET material.