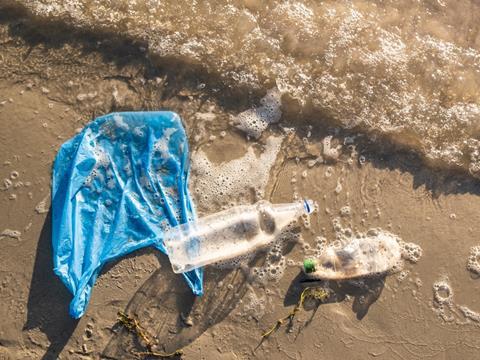 Sukano has teamed up with tide ocean SA to become the global distributor and partner for additive and color masterbatches for its #tide ocean-bound rPET material - upcycled via a mechanical process that reportedly regenerates the molecular chains of damaged ocean-bound plastics.

The utilisation of this ocean-bound plastic is expected to result in an 80% reduction in customers' carbon footprints, with tide ocean SA (#tide) citing an LCA conducted by Carbotech. It is also hoped to lower manufacturers' greenhouse gas emissions and reliance on virgin plastics.
#tide utilises blockchain technology to track its material flows from the initial collection of plastic waste to the delivery of recycled plastic granules to its customers; this data is said to include photographs, dates, volumes, and information about the individual processing steps, which is saved on a public blockchain with the aim of ensuring security and transparency. It is apparently possible to extend this tracking downstream to include further production and integrate it into the consumer-facing retail stage to create a product passport.
#tide partners with the Swiss non-profit myclimate to offset the greenhouse gas emissions generated in the transportation stage.
Meanwhile, Sukano has been appointed the distributor and exclusive masterbatch partner for #tide's ocean-bound rPET material, and the company aims to combine its resin distribution with its additive and colour masterbatch and compound solutions in a 'one-stop-shop' for plastic products. #tide also partners with with Fondation Jan & Oscar Fondation Jan & Oscar to build the Social Enterprise Ranong Recycle for Environment (RRE) with the goal of facilitating the collection of ocean-bound plastics, while providing jobs, education, and new sources of income for vulnerable people and communities in southern Thailand.
Sukano supports the non-profit organization's education program, which aims to raise awareness about the importance of waste management and its essential role in facilitating sustainable and long-term societal and environmental development.
"At Sukano, we believe that nature and the environment are not inexhaustible resources, and require protection and rational use," says Norman Egger, global board member at Sukano. "By partnering with #tide and the Fondation Jan & Oscar, we are working proactively to protect the planet by promoting sustainability, circularity and social development for all."
"Joining forces with like-minded brands and organisations is the only way we can solve plastic pollution once and for all," says Marc Krebs, CCO at Tide Ocean SA. "With Sukano as a partner, we can have an even bigger impact by offering our material to a broader market."