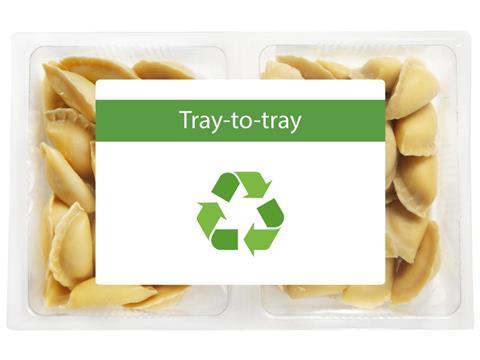 In a collaborative effort, Evertis and Indorama Ventures are implementing flake from recycled PET trays to produce films for similar packaging solutions.
With Indorama Ventures' Verdun facility currently producing rPET from post-consumer trays at a commercial scale – reportedly of comparable quality to flakes originating from bottles – the solution aims to close the loop on PET trays.
Apparently, the new tray-to-tray recycling workstream will increase the total amount of recycled PET available on the market and simultaneously divert over 50 million post-consumer PET trays from landfill or incineration every year. It also aims to reduce the annual €143 billion cost of food waste generated throughout the EU, with 154 million tons said to go to waste.
Evertis also anticipates that the partnership will contribute towards its target of implementing 50% post-consumer recycled content into its products by 2025.
"PET trays are crucial to provide safety and convenience to consumers, ensuring longer shelf life for food and reducing waste," explained Marta Matos Gil, chief sustainability officer at Evertis. "For some time, our industry has had a goal to create circular solutions for these essential products.
"Indorama Ventures' innovative recycling methods show how we can create a truly circular economy by developing infrastructure and capacity to collect, sort, and recycle PET trays and transform them back into valuable raw material. This partnership helps Evertis to meet our sustainability goals and boost our product innovation in terms of circularity, recyclability, and eco-design.
"This is crucial in the current market, where our clients face new packaging regulations and consumers are concerned about the environmental impact of the products they buy. Evertis can meet both those needs."
"We can support a circular economy by conducting rigorous testing at every stage of the process, from sorting and recycling to conversion, to ensure the highest quality," added Yash Lohia, Chairman of IVL's ESG Council. "Our Deja sustainable ingredients brand, including rPET, supports the EU's plastic collection and recycling targets."
Previously, Evertis achieved the Ecosense Foundation's Retray certification for the reported recycled content, traceability, and management of its monolayer and multilayer PET films.
Indorama Ventures also worked with VALORPLAST, Klöckner Pentaplast, and CITEO to develop and validate its commercial PET tray-to-tray recycling technology last year.
If you liked this article, you might also enjoy:
McDonald's Director of Sustainability in Europe on the company's approach to packaging sustainability
McKinsey on whether or not on-pack sustainability claims affect consumer spending
Perspectives from industry-leading experts on the EU's Packaging and Packaging Waste Directive revisions
A deep dive into the most important packaging sustainability trends and solutions