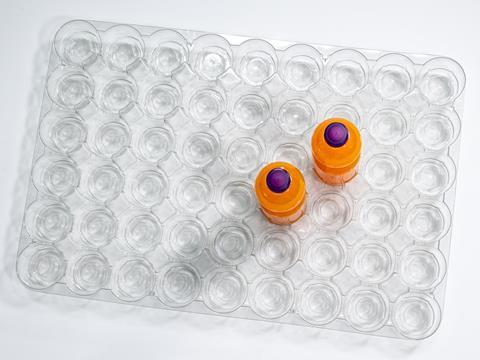 Greiner Packaging is implementing post-consumer rPET from the yellow bag into trays to transport and display beverage bottles, with Rauch Fruchtsäfte set to adopt trays containing 70% post-consumer recyclate.
Greiner Packaging's business unit, Greiner Assistec, will produce the trays from waste in the yellow bag. The post-consumer material will undergo pre- and post-sorting, followed by shredding and washing, to produce rPET flakes; these are produced from beverage bottles, but also from cups, tubs, trays, and other end-of-life packaging – apparently demonstrating the viability of alternative PET value flows and relieving dependence on the PET bottle flow.
The flakes will then be extruded into a PET film containing 70% recycled material, which will be thermoformed into rPET trays. These are not thought to differ in quality from beverage trays made of virgin plastics.
It is hoped that the process will 'establish corresponding recycling streams on a large scale' and make greater use of PET packaging discarded in the yellow bag. The trays will be used to maximize efficiency, save space, and ensure the safety of the bottles in transit – then to display them on supermarket shelves, saving retail employees time that would otherwise be spent unloading the products.
Hanno Mandl, purchasing manager at Rauch Fruchtsäfte, says: "For us, creating beverage trays from rPET material that does not come from the bottle flow is a great opportunity: On the one hand, it means we are focusing on a sustainable product. On the other hand, we are promoting a tray-to-tray cycle.
"As a beverage manufacturer, we are of course particularly keen to ensure that high-quality r-PET from the bottle flow is also available for the production of new r-PET bottles and that alternative forms of packaging are used for the manufacture of other products."
Peter Fessl, director Operations Recycling at Greiner Packaging, added: "By expanding a year ago, we sent a clear signal and underscored that we believe in the potential of rPET for a sustainable future of the packaging industry. Even then, it was our clear goal to drive recycling streams away from bottles.
"The project together with Rauch Fruchtsäfte is just one step on this path, to be followed by many more."
In April this year, Tesco announced the development of a PET recycling initiative in partnership with Faerch; it would result in the incorporation of recovered and recycled plastic food trays back into its chilled ready meal packaging.
Indorama Ventures and AMB Spa have also joined forced to recycle post-consumer PET trays into film for food packaging trays – aiming to divert 150 million trays away from landfill or incineration by the end of 2025.
If you liked this article, you might also enjoy:
The L'Oréal approach to packaging sustainability
What steps is Apple taking to make its packaging more sustainable?
How did Brazil achieve its 100% aluminium can recycling rate – and can it be replicated in the EU?
Experts have their say on the EU's Packaging and Packaging Waste Directive revisions
Also, if you're interested in packaging sustainability, you will want to attend our Sustainable Packaging Summit in Amsterdam on 14-15 November. The Summit brings together leaders and pioneers from across the industry to align strategically, learn, network, and create a critical mass to accelerate change. You can learn more by clicking here, and you can buy a ticket to attend here.