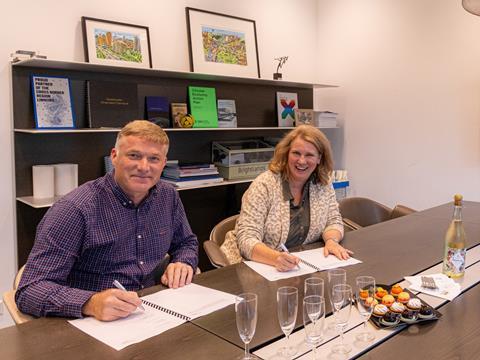 Itero Technologies has signed a commercial realisation agreement with Brightlands Chemelot Campus to build a chemical recycling plant anticipated to recycle 27kT of plastic waste every year.
Set to begin its operations in the second half of 2025, the demonstration plant will use pyrolysis to convert plastic waste into new plastics and products in what is hoped to be a circular process. It will serve as a step forward in the scaling of Itero's technology, with R&D with post-consumer plastic waste currently taking place in a West London pilot.
The plant is also anticipated to position Brightlands as an example of scaling innovative technologies, with ioniqa, Blue Plastics, and ReSolved Technologies cited as similar instances. It emphasises that 'dramatically' scaling up recycling technologies is as important to achieving a positive global impact as developing new ones.
Additionally, Brightlands is set to contribute towards the civil preparation, building design, and construction of Itero's demonstration plant.
"We welcome taking this next, crucial step together with Brightlands," said Itero CEO Simon Hansford. "We see the Brightlands Chemelot Campus circular materials ecosystem, including the Brightlands Circular Space initiative, as a natural fit for the development of our recycling technology. It gives us access to incredible expertise with like-minded professionals and talents working towards shared goals here in the Limburg region."
Astrid Boeijen, CEO Brightlands Chemelot Campus, added: "Itero's decision to build its demonstration plant at Brightlands Chemelot Campus supports our Brightlands Circular Space initiative as the place to be for circular collaboration and innovation on circularity of plastics.
"Brightlands Circular Space includes a fully circular demonstrator facility that is being developed at the north side of our campus in 2024-2026. Together, we will take advantage of this courageous step as we are both convinced that together we can achieve our goal of a circular world better and faster."
In other news, Amcor and Mondelēz International have signed investment agreements to help Licella build what claims to be one of the first advanced recycling facilities in Australia – anticipating the processing of 12,000 tonnes of end-of-life plastics every year.
Indorama Ventures has also completed the expansion of its Brazilian recycling facility and hopes to increase its yearly production capacity from 9,000 tons to 25,000 tons of post-consumer recycled PET.
If you liked this article, you might also enjoy:
The Lidl approach to packaging sustainability
How did Brazil achieve its 100% aluminium can recycling rate – and can it be replicated in the EU?
Experts have their say on the EU's Packaging and Packaging Waste Directive revisions
A deep dive into the most important packaging sustainability trends and solutions