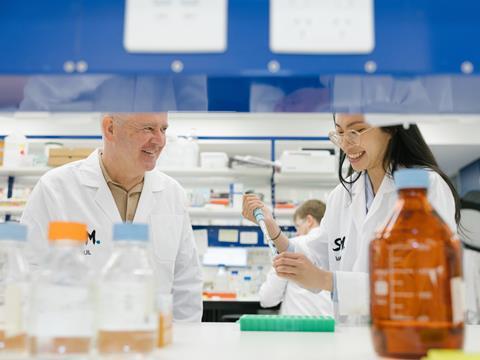 Samsara Eco will open what is claimed to be Australia's first infinite recycling research and development facility, where the start-up hopes to expand its enzymatic library and pursue its goal of recycling 1.5 million tonnes of plastic a year by 2030.
Located in the Poplars Innovation Precinct at Jerrabomberra, Queanbeyan in Regional New South Wales, the facility is hoped to help Samsara scale up its patented enzymatic capabilities. It will focus on the acceleration of the company's scientific research in preparation for future commercialisation, undertaken in partnership with the Australian National University (ANU).
Less than 10% of fossil-based plastic is thought to be recycled through current methods, and Samsara Eco hopes to prevent the production of new unrecycled materials by infinitely recycling existing plastics. Its technology depolymerises plastics into their core molecules, which are then converted back into new plastics.
The company's current enzymatic library is said to handle coloured, multi-layered, and mixed plastics, as well as textiles such as polyester and nylon 6,6. It is anticipated that the R&D facility will help to add more materials to the list.
Poplars and the Queanbeyan-Palerang Regional Council are also working with Samsara to establish the facility. It is expected to enter operations by late 2024.
"You can't solve the climate crisis unless you solve the plastics crisis," asserts Paul Riley, CEO and founder of Samsara Eco. "Plastic is one of the greatest inventions of the 20th century and provides enormous utility because of its durability, flexibility and strength. Yet, it's also an environmental disaster with almost every piece of the 9 billion tonnes ever made still on the planet.
"We've had fantastic growth out of our ANU lab so far, but the plastic problem is growing fast. As we gear up towards commercialisation, access to our first R&D facility will enable us to accelerate the capabilities of infinite recycling and scale our solution which breaks down plastics in minutes, not centuries."
"Samsara Eco's innovative technology has the potential to put Queanbeyan and Jerrabomberra on the international stage as countries all over the world look for ways to reduce waste and work toward net-zero carbon emissions," Cr Kenrick Winchester, Queanbeyan-Palerang Regional Council Mayor, continues. "We hope that securing Samsara Eco is the first of many new and exciting initiatives for the precinct and we look forward to the employment opportunities the precinct will provide."
David Maxwell, director of Poplars Developments, adds: "Poplars Innovation Precinct is located in Queanbeyan on the doorstep of the Australian Capital Territory which will support employment and investment opportunities. With an expanding network of connections to a range of Universities and growth in the scientific research and high-technology industries, the precinct will be uniquely positioned to accelerate Samsara Eco's next phase of growth."
In another announcement, Amcor and Mondelēz International have signed investment agreements to help Licella build what is thought to one of the first advanced recycling facilities in Australia. Its goal is to pursue a yearly processing rate of 12,000 tonnes of end-of-life plastics.
Also, a joint venture between gr3n and Intecsa Industrial is set to result in a 'first-of-a-kind' manufacturing facility for the microwave-assisted depolymerisation of PET. This is expected to produce 40,000 tons of recycled PET a year by 2027.
If you liked this article, you might also enjoy:
The Lidl approach to packaging sustainability
How did Brazil achieve its 100% aluminium can recycling rate – and can it be replicated in the EU?
Experts have their say on the EU's Packaging and Packaging Waste Directive revisions
A deep dive into the most important packaging sustainability trends and solution