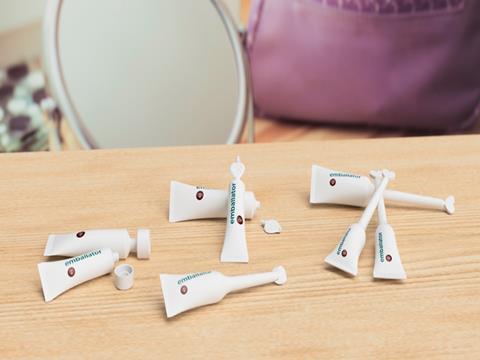 Emballator has revealed a new series of monomaterial tubes with integrated applicators for internal and external treatments, developed with a focus on women consumers.
The new Women Care tube series includes the models Extended Long-neck, Twist off Recap, Twist off Reseal, and Long-neck.
The Extended Long-neck tube is apparently suitable for pharmaceutical and healthcare products, offering a single dose for internal treatment. Emballator says the integrated applicator is safe and comfortable to use, with soft edges and a long application neck, allowing the tube to be emptied fully. The company adds that softer materials are available for increased comfort.
The Twist off Reseal tube can be used for both multi or single uses and is also suitable for health care and pharmaceutical applications, according to Emballator. It features an integrated and resealable twist-off closure that is reportedly travel safe and features a tamper-proof seal.
According to the company, its Twist off Recap tube also has a tamper-proof cap with an integrated twist-off solution that ensures an unbroken seal and also offers time and material savings compared to traditional caps.
Finally, the Long-neck tubes are available in multiple sizes and volumes aimed to suit different applications, Emballator says. Intended for single-dose usage, the Long-neck tubes can apparently be customised according to design and functionality requirements.
All of Emballator's Women Care tubes come in an inclusive size range, according to the company.
In addition, Emballator claims that all of the tubes are 100% monomaterial and therefore recyclable. The company adds that the tubes are manufactured with green electricity and can also be made for medical grades or from sustainable materials.
Emballator notes that the manufacturing process for the tubes meets ISO 9001: 2015, 15378: 2017 and ISO 14001 standards.
Caroline Häggström, sales manager of healthcare at Emballator Tectubes, comments: "We are proud to finally be able to launch this tube series. The tubes are both safe and durable for the user and the environment.
Daniel Lundström, product developer at Emballator Tectubes, explains: "Our flagship product in this series is our Extended Long-neck tube – a new tube completely developed for intimate products and which can be used for a wide range of applications from medicines to health products."
Emballator Techtubes has previously launched a range of tubes made from 100% post-consumer recycled aluminium, which the company says it also uses green energy to produce.