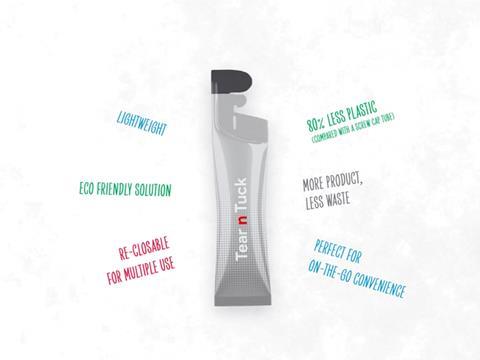 Unette Group has released its Tear n Tuck re-closable tubes in response to traditional screw cap tube solutions, said to reduce weight, cost, and environmental impact with a 70% decrease in plastic.
To use the Tear n Tuck, consumers can tear the top of the sachet and squeeze out as much of the product within as required. A dashed line is provided on the packaging itself, guiding users to fold and tuck the tab for secure storage.
This resealable solution is thought to provide a versatile and convenient means of packaging suncream, lubricants, topical creams, and other pastes or liquids. It is designed for easy access and to prevent leaks and spillages, as well as claiming to hold more product with less resultant packaging waste in light of increasing consumer interest in sustainability.
"We have developed this unique solution for the many responsible brand holders that want to reduce the impact that their packaging is having on the environment," said David Rimmer, managing director at Unette. "We have carried out market research and have received some stunning endorsements from consumers who simply demand that manufacturers do more to reduce the amount of plastic packaging."
It is also reported that customers can apply high-quality printing to the tubes for brand differentiation.
Emballator unveiled various new tube solutions last year – a small dose tube with an integrated twist-off closure doubling as a safety seal before use and a re-sealing feature during; and, before that, a series of monomaterial tubes with integrated applicators, largely intended to package intimate care products for women.
Meanwhile, one of two winners in the plastic tube category at Etma's Tube of the Year Awards 2022 was the Caudalie shower gel tube from Albéa, which utilised its Thin Wall technology with COEX PCR Max and Slight Cap PP to integrate post-consumer recycled content into a lightweight packaging solution.