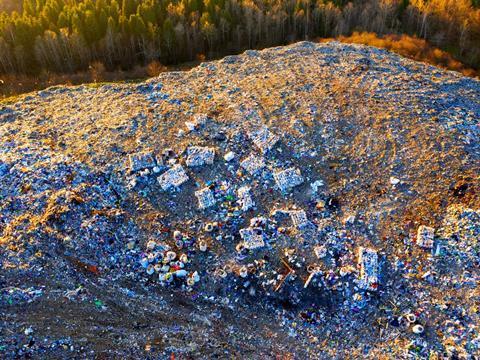 A report published by the European Commission has identified the nine Member States it believes will meet reuse and recycling targets by 2025 and landfilling targets by 2035 – but warns that a further eighteen could miss one or both of these goals.
The targets in question call for 55% of municipal waste and 65% of packaging waste to be prepared for reuse or recycled by 2025; in addition, it is hoped that landfilling of municipal waste will decrease below 10% by 2035.
Other material-specific packaging waste recycling targets lay out figures of 75% for paper and cardboard; 70% for glass; 70% for ferrous metals packaging; 50% for aluminium; 50% for plastic; and 25% for wood.
According to the report, Austria, Belgium, Czechia, Denmark, Germany, Italy, Luxembourg, the Netherlands, and Slovenia are all making the appropriate progress to meet both these goals. On the other hand, Bulgaria, Croatia, Cyprus, Greece, Hungary, Lithuania, Malta, Poland, Romania, and Slovakia are feared to miss both the municipal waste and overall packaging waste targets for 2025.
Estonia, Finland, France, Ireland, Latvia, Portugal, Spain, and Sweden are not expected to meet the municipal waste target at current rates, and the report continues to assert that some Member States still landfill most of their municipal waste and are therefore set to fall short of the 2035 landfilling target.
In order to make progress, the Commission recommends that these members "[build] on continuous financial and technical support provided for improving performance on waste management". To achieve the 2025 recycling targets, it underlines actions such as cutting down on non-recyclable waste, scaling up reuse, encouraging separate collection, developing waste treatment capacities for sorting and recycling, improving governance, deploying economic instruments, and raising awareness.
The Commission highlights that waste management performance currently varies between countries, with some requiring progress in the treatment of biowaste – said to represent a third of municipal waste – as well as the improvement of data quality and the separate collection of waste.
The latter has recently been impacted by the fallout of the COVID-19 pandemic, the report suggests, with separate collection processes being reduced or stopped completely. Rising energy prices are also claimed to have impacted recycling activities, although many Member States have implemented, or are currently implementing, waste reforms to improve recycling rates.
The Commission declares that it will provide funding and technical assistance – exchanging best practices, promoting peer-to-peer learning, and utilising the Environmental Implementation Review, for example – to support Member States in rolling out EU legislation, although it underlines that national authorities are ultimately responsible for meeting its requirements.
The organisation also reports that its proposals for new regulations on waste shipments, packaging and packing waste, and eco-design for sustainable products seek to pave the way towards a circular economy and improve waste management amongst Member States.
Between household and business waste, Europe is thought to generate an average of 530kg of municipal waste per person every year. Around 50% of municipal waste is recycled or composted and 23% is landfilled, although it is still said to be one of the most complex waste streams to manage.
Conversely, packaging waste has only been increasing, according to the Commission – rising by 15% and reaching almost 80 million tonnes between 2013 and 2020. In general, approximately 64% of packaging waste is currently said to be recycled, although this is thought to vary between materials.
Less than 40% of plastics are currently recycled in the EU, with most European countries reportedly at risk of missing recycling targets for plastic packaging waste; however, over 75% of paper, cardboard, and metal packaging is said to be recycled at current rates.
Previously, the environmental implementation review revealed that almost 2000 illegal or substandard landfills are still operating within the EU, which is said to be generating both pollution and greenhouse gases as well as preventing the recovery of secondary raw materials.
Matt Tudball, senior editor, Recycling at ICIS, spoke to Packaging Europe about a 'lack of clarity' in the proposed rules of the Packaging and Packaging Waste Regulation. He warned that it could impact future investments in chemical recycling and reuse systems, amongst other crucial areas in the pursuit of sustainability.
A joint letter signed by various NGOs and packaging industry players agrees that the upcoming legislation is vague in its definition of high-quality recycling and calls for such measures as a "priority right" to food-contact recycled materials to ensure that resources are distributed fairly across the packaging sector.
Further feedback has called for the protection of the European internal market legal basis in a bid to achieve the Packaging and Packaging Waste Regulation's economic and environmental goals.
If you liked this article, you might also enjoy:
McDonald's Director of Sustainability in Europe on the company's approach to packaging sustainability
McKinsey on whether or not on-pack sustainability claims affect consumer spending
Perspectives from industry-leading experts on the EU's Packaging and Packaging Waste Directive revisions
A deep dive into the most important packaging sustainability trends and solutions