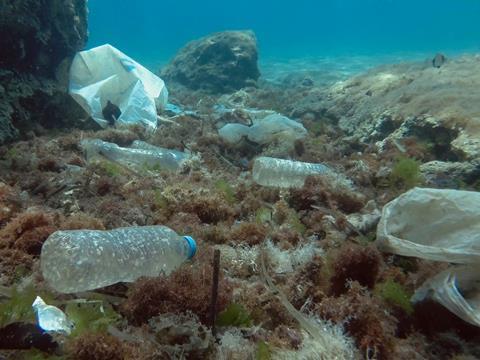 A new paper from the Ellen MacArthur Foundation suggests that its New Plastics Economy Global Commitment signatories are proving the viability of collaborative progress in fighting plastic pollution, but calls for 'tougher measures' to break further ground.
Over 1,000 organizations have backed the Global Commitment, led by the Foundation and the UN Environment Programme, since 2018 in a bid to keep plastic packaging from becoming waste. Business signatories are said to represent 20% of the global plastic packaging industry and outperform other industry players in their waste reduction efforts.
These have included signatories more than doubling their share of recycled content at 1.5 million tonnes per annum – an adjustment said to keep the equivalent of a barrel of oil in the ground every two seconds. They are also reported to have avoided 2.5 million tonnes of greenhouse gas emissions, decreased their consumption of unnecessary and 'problematic' plastics, and stabilized their use of virgin plastics.
Even so, most are expected to miss targets to completely implement reusable, recyclable, or compostable packaging by 2025, and with the remaining 80% of the industry not yet participating in these efforts, the 'Global Commitment Five Years In' paper asserts that more must be done to bring the world up to speed with waste reduction efforts.
Although its signatories are exploring the benefits of collaboration in eliminating plastic waste, the Foundation predicts that 20 trillion flexible packaging items like wrappers, pouches, and sachets will enter the ocean by 2040 unless more businesses take action and 'more ambitious' binding policy and regulatory measures are not implemented.
Sander Defruyt, Plastics Initiative lead at the Ellen MacArthur Foundation, commented: "The learnings from the Global Commitment over the past five years have shown it's possible to make meaningful progress towards keeping fossil resources in the ground and plastics out of the ocean.
"When we took our first steps on this path, there was limited action on this topic. The efforts over the last five years have allowed us to make a major step forward. We now know that progress to tackling plastic waste at a global scale is possible, and where the key hurdles are that are preventing further change.
"But the world remains far off track from fixing the plastic pollution crisis. The international legally binding instrument on plastic pollution currently being negotiated, alongside accelerated business action, are now needed. We can't pick or choose from either of these measures – both are crucial to ensure progress is pushed further and faster."
Sheila Aggarwal-Khan, director of UNEP's Industry and Economy Division, continued: "In the past five years, the Global Commitment has demonstrated how plastic pollution can be curbed, while shedding light on the 'pain points' that need to be addressed to get the system redesign right.
"More than half (53%) of reporting government signatories have set quantitative targets to accelerate progress on reusability, and to promote systems redesign to favour more recyclable and where relevant compostable alternatives.
"The ongoing negotiation for an international legally binding instrument is a chance to agree the rules, measures, and incentives for an enabling environment to end plastic pollution. Governments, businesses, and all relevant stakeholders must act with unity to ensure we do not miss this historic opportunity."
The Foundation highlights the roadblocks industry leaders face in scaling reuse business models; establishing infrastructure for collection, reuse, and recycling that is underpinned by Extended Producer Responsibility policies; and overcoming flexible packaging waste and pollution, especially in countries with high plastics leakage rates.
However, the Global Commitment is set to be a 'key force' in encouraging voluntary action and both informing and complementing the development of a Global Plastics Treaty at INC-3 in Nairobi, Kenya in November.
Previously, the Foundation called for legally binding global rules and encouraged greater focus on the reduction, redesign, and reuse of plastic materials following the second round of negotiations at INC-2.
The Business Coalition for a Global Plastics Treaty recently expressed its own approval of the 'Zero Draft' for a Global Plastics Treaty while suggesting its own priority areas – including further clarifications on the criteria to expand on other relevant international policy frameworks and harmonized information disclosure and marking and labelling requirements.
On a wider scale, though, the European Commission has identified Bulgaria, Croatia, Cyprus, Greece, Hungary, Lithuania, Malta, Poland, Romania, and Slovakia as Member States that it fears will miss municipal waste and overall recycling targets by 2025.
Join us at the Sustainable Packaging Summit 2023 where Aisha Stenning, programme manager, Plastics at the Ellen MacArthur Foundation, will discuss this topic.
If you liked this article, you might also enjoy:
The L'Oréal approach to packaging sustainability
What steps is Apple taking to make its packaging more sustainable?
How did Brazil achieve its 100% aluminium can recycling rate – and can it be replicated in the EU?
Experts have their say on the EU's Packaging and Packaging Waste Directive revisions
Also, if you're interested in packaging sustainability, you will want to attend our Sustainable Packaging Summit in Amsterdam on 14-15 November. The Summit brings together leaders and pioneers from across the industry to align strategically, learn, network, and create a critical mass to accelerate change. You can learn more by clicking here, and you can buy a ticket to attend here.