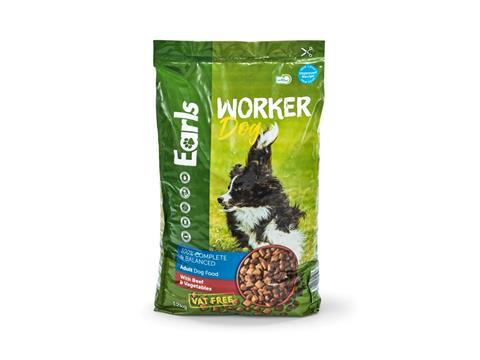 Irish Dog Food has partnered with Coveris on recyclable, monomaterial PE bags for its larger size ranges of pet food.
The goal of the project was to switch from Irish Dog Food's existing range of bags with a PET/PE structure, which is not widely recyclable, to a monomaterial PE structure that apparently enables full recyclability using Coveris' MonoFlexE brand. The transition included two sizes of 10kg and 12kg bags.
The design of the bag offers a matte finish, which the companies say boosts communication and shelf appeal for consumers. According to the companies, consumer demand for pet food has increased as more households have acquired a pet during the COVID-19 pandemic, and with millennials representing 59% of new owners, this group is particularly interested in sustainable products.
Philippe Poudens, key account manager pet food at Coveris, comments: "We were able to provide bigger bags with the same benefits as our standard structures with a matte finish, while reducing the carbon footprint and preserving the environment, which was one of the key challenges for our customer."
The new pet food bags are available in Aldi stores in the UK, having launched in the summer of 2021. Coveris is working with the retailer to meet the goals of the UK Plastics Pack, of which both are signatories, with the monomaterial solution for Irish Dog Food reportedly meeting the target of transforming 100% of plastic packaging to reusable, recyclable, or compostable options by 2025.
Jamie Queally, purchase manager at Irish Dog Food, adds: "We wanted to be one of the first to offer recyclable bags on the market but we didn't want it to impact our production process and machinery.
"Coveris was able to provide us with a new, recyclable material, however, with the same characteristics as our previous bags with the PET/PE structure."
Last year, Coveris worked with the French pet food manufacturer, Demavic, on a pouch also made from its MonoFlexE PE film for a range of therapeutic pet kibble.