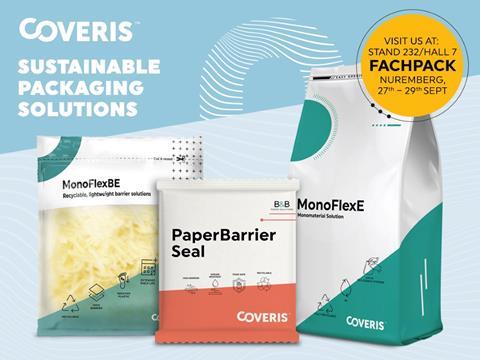 Coveris will introduce a new range of plastic- and paper-based solutions, including wash-off labels and transportation films with recycled content, that are aimed at enhanced recyclability, packaging waste reduction, and shelf-life extension at FachPack 2022.
Coveris says that one of the key innovations it will unveil at FachPack is the extended CPP Cleancast Films product range for duplex and triplex laminate alternatives on a polypropylene (PP) base. The company claims that these cast unoriented PP films are able to withstand re-shrining at high temperatures (0% at 150oC), apparently making them suitable for packaging a wide range of food, pet food, and non-food products.
In addition, Coveris will present new wash-off labels that are designed for PET and rPET bottles and containers, which are reportedly available with DPG-approved security inks. The company says that the wash-off labels are compatible with deposit return schemes (DRS) and enable maximum clean PET recovery for use in rPET.
Coveris adds that it will introduce new transportation films that are allegedly fully recyclable and made with 30% recycled content. The company claims that stretch films, including tubes, are made using recycled plastic and energy from renewable sources while being able to stabilise up to 900kg of freight using just 800g of film.
According to Coveris, its extended range of recyclable PE and PP MonoFlex films and laminates – including its grated cheese packaging, which has been used by the UK retailer Tesco for its own-brand range – will be on display in various formats and sizes up to 12kg. The company's MonoFlex packaging reportedly maintains product shelf-life, performance, functionality, and efficiency.
Paper-based solutions set to be displayed by Coveris at FachPack 2022 include the PaperBarrier Seal, first introduced in 2021, with barrier properties that have reportedly been further developed and extended to offer functionality and product safety while minimising both packaging and product waste. The company says that the solution is applicable for a wide range of dry foods and snacks, apparently enabling sealability while remaining fully recyclable in existing paper streams.
Coveris will also be showing products for the on-the-go market, including its RecyclaPEel MAP sandwich skillet, which it says it developed for longer shelf-life demands, excellent product visibility, and on-shelf appeal. The solution features a sustainably sourced carton board and a peelable polyethylene (PE) film liner, which are separable and fully recyclable, according to the company.
Jakob A. Mosser, CEO of Coveris Group, comments: "From Coveris' perspective, it's not about choosing between paper or plastic packaging, it's about finding the best, most eco-efficient and best-performing packaging for the respective product – without any limitations in material.
"We are proud to again display an industry-leading range of sustainably designed films, laminates and premade packaging innovations at this year's FachPack.
"We thoroughly believe in our No Waste vision, reducing packaging waste, product waste and operational waste. We are continuously launching truly sustainable innovations that avoid waste in all its forms with no compromise in quality and safety."