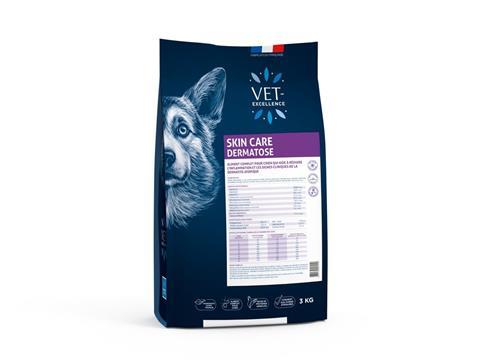 Coveris has partnered with the French pet food manufacturer, Demavic, to launch its range of new therapeutic pet kibble in a monomaterial, recyclable bag.
According to the companies, the global pet food market has an estimated revenue of US$34.955 million, with France ranking the third-highest country in terms of revenue, and is growing steadily despite the COVID-19 pandemic. The companies add that consumer demand for therapeutic foods that help animals to maintain a balanced diet and healthy lifestyle is also increasing.
Meanwhile, brands are aiming to meet consumer preferences while also meeting sustainability targets. In France, where Demavic is based, the government has recently introduced an anti-waste law to encourage the elimination of pollution and particularly waste from single-use plastics.
Demavic says this is why it collaborated with Coveris on the quadroseal bag, which was designed using the MonoFlexE polyethylene film, which the companies claim is easy to recycle in existing plastic streams.
Additionally, Coveris claims that Demavic agreed to use the MonoFlexE because it is easy to introduce to existing production lines, as it has an equivalent machinability to standard PET and PE materials.
Coveris will manufacture two variations of the bags: a 3kg and 10kg format. The 3kg bag includes a front zip, reportedly allowing easy opening and resealing for extended freshness of the kibble, thus offering product protection and convenience.
However, Coveris notes that producing a 10kg bag was a challenge as this was the company's first inquiry from a customer for monomaterial bags in this size. Coveris' research and development team in Firminy were apparently able to produce a bag that met all product tests.
The product – including the kibble, packaging, and label – are all manufactured in France, according to the companies, and will be rolled out on the French market from Summer 2021. The companies say that the bags will soon be sold in large specialised stores.
Olivier Poupon, a buyer at Demavic, comments: "When we decided to launch a new range of therapeutic pet food, we had to think about the distribution channels we would select.
Usually, therapeutic pet food is sold through veterinarians, but we wanted to innovate and market our products in large food stores.
"To attract consumers to buy this type of product at this point of sale, we had to take into consideration their expectations, particularly with regards to packaging and environmental protection.
"The combination of full recyclability of the monomaterial, the prolonged freshness thanks to the front zip and the enhanced graphics met all our needs. As a result, the new bag created a user and environmentally-friendly image for our therapeutic pet food brand."
As consumer demand and legislation increasingly calls for sustainability, other brands in the pet food segment have sought to implement new packaging solutions. For example, Mondi recently unveiled a monomaterial pouch developed for the Finnish dog food brand Hau-Hau Champion, while UK brand Skinner's celebrated its 50th year of business with a new iteration of its Field & Trial range that is completely recyclable.