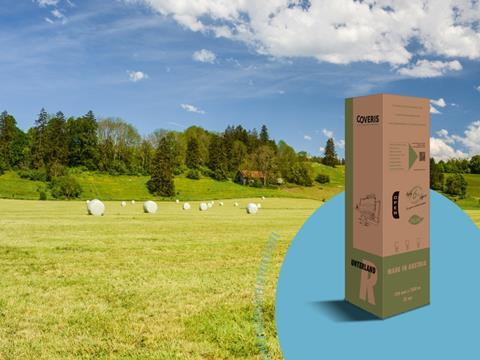 Coveris has unveiled a new stretch film for silage bale wrapping, Unterland R, which contains at least 30% recyclate from collected agricultural films.
According to Coveris, the post-consumer recycled content of the film allows 20 litres of mineral oil to be saved per produced roll.
In addition, the new film is produced at the Coveris Kufstein factory in Austria, which the company says runs entirely on renewable resources. Coveris claims that this, combined with the mineral oil savings, allows farms to reduce their carbon footprint by 23% by switching to Unterland R.
Coveris adds that the multi-layered stretch film has been tested by Coveris partners around the world in different weather conditions and using various conventional wrappers. The Unterland R apparently maintained the exact same quality no matter the environment.
Martin Wildinger, sales director for agricultural films at Coveris, comments: "We believe that the new Unterland R stretch film is what farmers have been looking for years – a sustainable yet highly effective and protective film for silage bale wrapping."
Coveris will be showing the new Unterland R stretch film live at the LAMMA Show in Birmingham from the 4th to the 5th of May 2022.
Earlier this year, Coveris collaborated with INEOS Olefins & Polymers on a new stretch-hood packaging film containing the latter's recycled polymer grades, Recycl-IN, to offer a minimum of 30% recycled material.