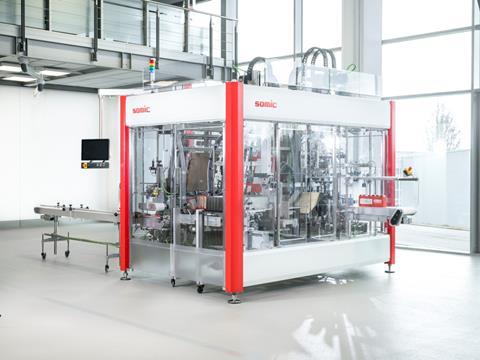 SOMIC is set to display its flexible 424 DT end-of-line packaging machine at this year's Fachpack convention in Nuremberg.
Designing the machine with carton packaging in mind, the company claims to respond to the Fachpack 2022 motto of "Transition" with the multi-packaging capabilities of its SOMIC tray packers, wraparound packers, and solutions for multi-part packaging. After installation at their plant, the customer can format changes in the carton blank.
"Change is always an issue in the consumer world," says Patrick Bonetsmüller, managing director at SOMIC. "Whether that's sustainable cartons or a greater number of packages bundled in a carton, we are well prepared for it."
It is also said to have strengthened digital exchange, which is beneficial in a post-COVID society. According to SOMIC, customers are not required to travel to the manufacturer to test the product; rather, it can be tested virtually before it is delivered.
Zünd is also set to preview a new portfolio of automated solutions at Fachpack this year, exhibiting its Pick&Place and Visualizing interface options, amongst other developments.
Other participants include Mitsubishi HiTec Paper and SN Maschinenbau, who recently collaborated on a solution that allows the recyclable, water-coated barrier papers produced by Mitsubishi to be processed in SN Maschinenbau's pouch packaging machines without the need for retrofitting.