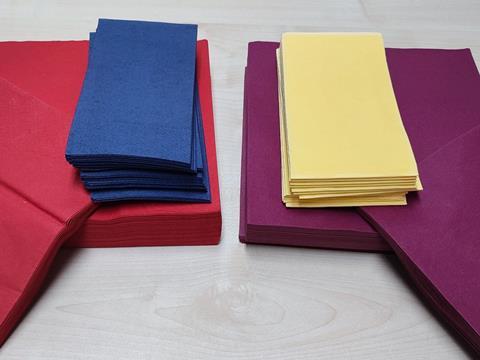 Archroma has announced that its range of colour dyes and fixatives designed for compostable paper has been certified as compostable, and now aims to offer an environmentally friendly and high-performance colouration solution for the paper industry.
With the rising popularity of compostability in paper packaging applications – aiming to cut waste and generate valuable organic matter – evaluation criteria must be met. Archroma claims that a range of dyes and fixatives from its Carta, Cartasol F, and Cartafix lines meet these standards.
Apparently, the range can be applied to compostable materials in a specified concentration of dry weight and fulfil evaluation criteria laid out in EN 13432 (2000), NF-T51-800 (2015), ASTM D6400 (2012, 2021), and ISO 17088 (2012) regarding biodegradation, ecotoxicity, heavy metals and fluorine content, and plant growth testing.
It also adheres to globally recognised compostability standards, Archroma adds, as well as food contact regulations specified in BfR XXXVI. As such, the dyes and fixatives are thought to be compatible with paper-based food packaging.
As well as seeking to reduce customers' environmental footprints and contribute to a circular economy, the colourants are also said to provide high-quality colour performance, offering a complete shade gamut including deep shades; liquid and powder dyes with fixatives are thought to ensure clear backwater and 'excellent' bleed-fastness. Their reported stability and durability intend to preserve the brightness of the colours throughout a pack's life cycle.
Archroma has also developed DOWN TO EARTH, a dedicated system designed to support industrial compostability for all types of paper, tissues, and packaging applications and help customers reach the full sustainability and performance potential of compostable coloured paper. This can be accessed online via the Archroma System Selector.
"At Archroma, we are committed to driving sustainable innovation across industries, and the certification of our compostable dyes represents a significant leap forward in the pursuit of eco-friendly coloration solutions," said Gilles Le Moigne, Packaging & Coating marketing manager at Archroma. "By providing paper manufacturers with a range of dyes that meet the strict compostability standards, we empower them to create beautiful, more sustainable products that resonate with today's environmentally conscious consumers."
Last year, James Cropper released Wainwright Colours from Nature, a coloured paper range that utilises dye derived from plant extracts that would otherwise go to waste.
Meanwhile, Hinojosa Packaging Group is aiming to cut down on single-use plastics in the foodservice sector with a line of recyclable and compostable primary packaging for hot and cold beverages, dairy, and fourth- and fifth-range prepared foods. The range is also compatible with food-safe printing techniques.
If you liked this article, you might also enjoy:
McDonald's Director of Sustainability in Europe on the company's approach to packaging sustainability
McKinsey on whether or not on-pack sustainability claims affect consumer spending
Perspectives from industry-leading experts on the EU's Packaging and Packaging Waste Directive revisions
A deep dive into the most important packaging sustainability trends and solutions