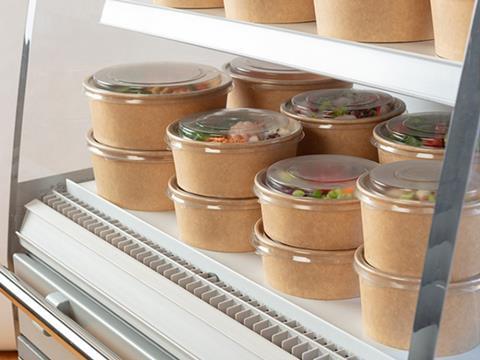 Colpac has brought the manufacture of its new range of multi-food pots – reportedly meeting OPRL guidelines with a maximum of 7% plastic in the bases – to its factory in England.
By introducing new machinery and processes to their UK location and eliminating the need for importing products, Colpac hopes to shorten its supply chain, cut down on carbon emissions, and appeal to eco-conscious customers.
The multi-pot range is available in printed and natural kraft options, with Colpac claiming that both are produced with FSC-certified materials. These are coated in polyethylene (PE), allowing the packaging to withstand moisture and grease from the food it contains.
The lids are made of recycled polyethylene terephthalate (rPET) and are said to contain over double the 30% recycled content threshold mandated by the Plastic Packaging Tax. Thanks to their anti-mist capabilities, the product is supposedly visible without having to open the packaging.
Customers can buy the pots in four sizes, ranging from 470ml to 1300ml, all of which can hold hot or cold foods. Pots and lids are sold separately, allowing customers the alternate option of heat sealing the packaging and labelling the bases.
Kate Berry, head of Marketing & Product at Colpac, says that the company "have created a solution that is quality-led and offers a secure supply chain.
"The new natural kraft range gives excellent on-shelf presence, appealing to environmentally driven consumers, and most importantly is manufactured in the UK."
Concerns about food sharing in the wake of the COVID-19 pandemic is said to have inspired the creation of Colpac's Platters range earlier this year. The paperboard platters are designed to replace shared buffets.
The company also launched its Two Compartment Box in 2020, the kraft board packaging intended for easy recyclability.