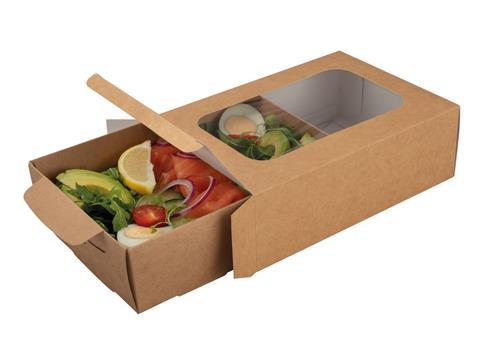 Colpac has expanded its Platters range to incorporate two new, smaller individual sized options in a bid to meet demand from the meetings and events sector for more hygienic alternatives to the shared buffet experience.
According to Colpac, shared buffets have become less common during the COVID-19 pandemic as people remain more aware of the transmission of illness through close contact.
Responding to this trend, Colpac has launched a small (324/304mm) and extra small (230/210mm) platter boxes with outer sleeves, which can hold a range of buffet-style foods, such as sandwiches, wraps, and savoury and sweet baked goods, for one to two people. The company adds that the platters are also suitable for afternoon teas, room service, and outdoor events such as individual picnics.
The company says that the kraft material of the new platters provides an artisan look and feel. Both the base and the box are manufactured from high grade paperboard to provide rigidity for transport, while the wide window aperture on the box provides visibility of the contents, according to the company.
In addition, the paperboard platters reportedly offer good end of life recycling outcome when food waste is removed, and the film detached for separate recycling or composting.
The new platters are delivered flat and are easy to assemble, Colpac claims. This apparently provides a space-efficient solution for catering teams, which can construct the boxes in advance and stack ready to use. Colpac adds that the bases of the platters feature pop-out handles for simple and hygienic handling without risking contamination, and the tuck end boxes provide security once the platter is filled for onward transport.
Kate Berry, head of marketing and product at Colpac, comments: "Our platters range is testament to our creativity and the capabilities of paperboard.
"The addition of these two new, smaller options has enabled us to offer a solution which not only caters to demand for individual portion sizes, but a recyclable option which helps customers meet sustainable objectives."
Colpac has previously launched a dual-compartment, lidded box made from cartonboard for the hot food-to-go market in two sizes, medium and large.