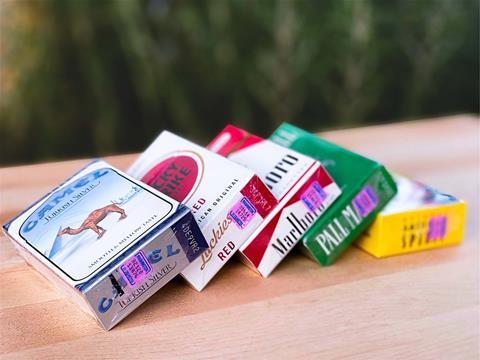 During the Congress, a number of new technologies were showcased. One of these came from Stardust Secured™ which offers a portfolio of security tracers and detection devices.
These covert tracers contain microparticles that are InfraRed (IR) reactive. This means the particles don't reflect light, they absorb it, react, and emit specific wavelengths (some in the IR). These are detected by the company's proprietary, custom devices that authenticate the IR responses as that unique material.
None of these materials exist in nature, says Stardust, and are only highly engineered particles that are produced in its R&D facility and headquarters in the USA. The hand-held devices resemble a one-button remote control that is easy to operate and can detect trace amounts of Stardust. This device performs a repeatable, non-destructive test of any marked product and provides immediate and unambiguous results to the user, says the company.
"Stardust Secured™ empowers brand owners, manufacturers, customers, or employees, to perform investigations, check for authenticity, or determine the provenance of secured goods," says co-founder Vitaly Talyansky. "Our technology is the highest level of security, used by Governments and Central Banks as well as many leading Brands in sectors as diverse as pharmaceuticals and fashion."
Quick investigations can be done post-installation, during a return or warranty examination, or prior to disposal, reuse, or recycling. Stardust® is compatible with nearly every material and host media, from polymers to paper packaging, and from coatings to textile fibres.
The markers are also widely used in the tobacco sector to authenticate tax stamps and, therefore the authenticity of the packet.
For example, every state in the USA has its own tax stamp, the tracer is the security feature used to protect these stamps in almost every state in the Union as well as several countries globally. It costs fractions of $0.01 per pack for these security features and the state and federal governments are the ones paying for that to ensure legal sales and collection of tax.
During the presentation, Dr. Talyansky explained Stardust is uniquely identifiable and, once incorporated, becomes inextricable from the product or the document. "It creates an ironclad, physical link between physical goods and intangible characteristics, claims and data, establishing a foundation of integrity for any traceability system," he said.
"It provides machine readability for process control, content verification, and protection of the things that matter most. From the point Stardust® is incorporated, to beyond a product's end-of-life, your assets are secured," he added.
"Blockchain and inventory management systems are only as effective as the system's integrity. Stardust Secured technology works complimentary with any inventory management systems or blockchain, creating an unbreakable, physical connection to meet the complex needs of modern supply chain accountability and transparency," he concluded.
This article was created in collaboration with AIPIA (the Active and Intelligent Packaging Industry Association). Packaging Europe and AIPIA are joining forces to bring news and commentary about the active and intelligent packaging landscape to a larger audience. To learn more about this partnership, click here.