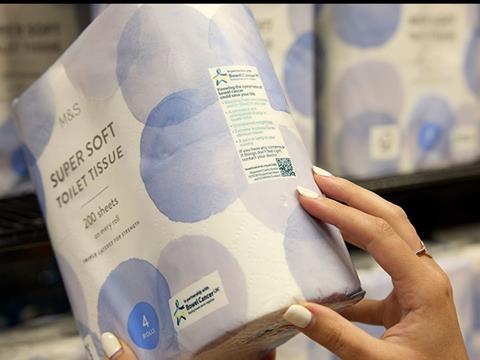 Marks and Spencer (M&S) partnered with Bowel Cancer UK earlier this year to add messaging about bowel cancer symptoms to its toilet roll packaging, in order to raise awareness around the disease.
All M&S own-brand toilet roll packaging now features examples of bowel cancer symptoms to encourage customers to contact their doctor if things don't feel right. Alongside a Bowel Cancer UK symptoms infographic, a QR code on the packaging redirects customers to the charity's website, so that they can find out more about symptoms and the help available.
Apparently, the move was suggested by colleague Cara Hoofe, who was diagnosed with stage 4 bowel cancer in 2016, at 32 years old. She was inspired to put forward the idea by the fundraising and campaigning efforts of Deborah James and submitted it to M&S' Straight to Stuart colleague suggestion scheme.
The scheme encourages colleagues to share ideas directly with CEO Stuart Machin, who said: "This is exactly what Straight to Stuart is about, harnessing simple ideas from colleagues that have a massive impact. Most importantly, this is a real opportunity to raise awareness across the UK and make a difference – the more people we reach, the more lives we can potentially help save."
Other retailers have since joined in as part of Bowel Cancer UK's #GetOnARoll campaign, and M&S also added signage to its customer and colleague toilets in June.
Hoofe herself says: "It's been surreal to see my idea put into action so quickly and to now be on the shelves across M&S stores. Deborah James inspired me to suggest the idea, and it's upsetting she's not here to see the final product but she continues to be a huge inspiration to me and other young people diagnosed with bowel cancer."
The retailer states bowel cancer is the fourth most common cancer in the UK and the second biggest cancer killer. They say nearly 43,000 people are diagnosed with bowel cancer every year in the UK, however the disease is treatable and curable, especially if diagnosed early.
Earlier this year, M&S extended its partnership with Check4Cancer to include screening support for colleagues with a higher risk of bowel cancer. All M&S colleagues have access to an online risk assessment tool, with those at 'higher risk' of bowel, breast, cervical, lung and prostate cancer eligible for a personalised screening programme.