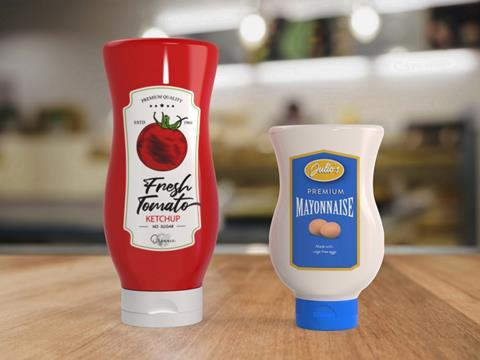 Berry Global has launched a new range of hot fill sauce bottles that feature a curved, top-down design for enhanced dispensing and consumer convenience.
Berry says its new Nova bottles have a curved design that makes them suitable for both top-down and upright use for maximised consumer convenience. The bottles are available in 250ml and 500ml sizes, with Berry adding that it can supply 38/400 flip-top closures in valved and valveless options to offer a complete pack solution to meet individual customer requirements.
According to Berry, the Nova bottles are manufactured in PP/EVOH/PP to offer extended ambient shelf life for a range of sauce products. The company explains that the bottle allows for easy squeezability to enhance product evacuation, which, in addition to the multilayer structure, apparently helps to minimise product waste.
The clear PP design of the bottle also allows for a large labelling area, Berry claims. The company says that this offers high-impact product branding for customers.
Berry adds that the bottle is suitable for both cold and hot filling up to 95oC.
Additionally, the bottle can reportedly be recycled in domestic recycling streams.
Caroline Smith, area sales manager at Berry's Corby facility, comments: "These bottles offer an eye-catching shape and are also very tactile, which I believe will give them significant shelf appeal. It has been a joy to be involved in their development."
In 2021, Berry M&H unveiled Mira, a PP bottle with an EVOH layer for table sauces and condiments, which was likewise designed with consumer convenience and on-shelf appeal in mind. The company also released a new 55mm closure for sauce bottles earlier this year that it claims is over 20% lighter than the previous version without any compromises on performance.