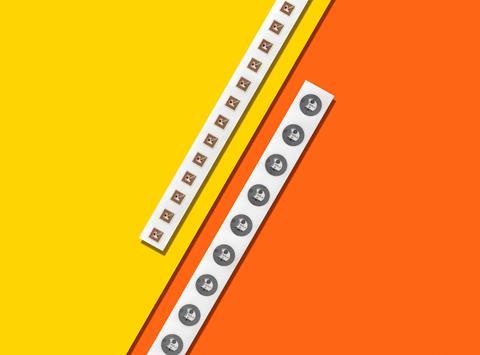 Avery Dennison today announced the introduction of ultra-small form factor versions of two of its popular NFC products, AD Circus Mini NTAG213 and AD Microblock ICODE SLIX, with the aim of anticipating demand for ever-smaller tagging options in the retail, packaging, pharmaceutical, and beauty sectors.
The round format AD Circus Mini NTAG213 measures 16mm (0.63 in) in diameter and is designed for customer experience applications, while AD Microblock ICODE SLIX, with dimensions of 8 x 8mm (0.31 x 0.31in), is primarily designed for authentication and brand protection use cases.
"NFC allows consumers to interact with brands in a way that goes beyond the point of sale, and to provide useful information about a product: what it is made of, how to use and how to recycle it. By being able to access this information with just a tap of a phone, it supports a more conscious approach to consumer goods production and consumption," says Max Winograd, vice president of atma.io and connected products at Avery Dennison Smartrac.
Winograd continues: "Intelligent packaging for consumer products continues to demand smaller inlay designs that are seamlessly embedded into packaging and devices. Product designers want finished goods which drive digital interactions, and this objective is accomplished with these smaller yet powerful inlays. These two new additions to our portfolio give brands excellent options to build digital twin experiences for their product lines."
AD Circus Mini NTAG213 is available in wet and dry formats, and AD Microblock ICODE SLIX is available in wet format. The inlays are compliant with ISO 9001:2015 Quality Management and ISO 14001:2015 Environmental Management, which the company says ensure a reliable product that meets a variety of application needs, especially in the retail environment.
In another move the company has launched its AD Minidose U9 RFID inlay for pharmaceutical applications, for use in healthcare, pharmacy and laboratory asset management. The Minidose U9 has received ARC certification (Spec S) from Auburn University's RFID Lab, and has been approved for use by the DoseID consortium. The inlay performs in the standard UHF RFID frequency band, 860 to 960 MHz, with a form factor of 22 x 12mm.
The inlay offers a long read range in densely packed inventory environments, the company reports, and is certified to work on all current DoseID product categories. It uses NXP Semiconductors' UCODE 9 IC, which comes with 96 bits of Electronic Product Code memory. Available as wet and dry inlays it is set for general availability during the second quarter of this year.