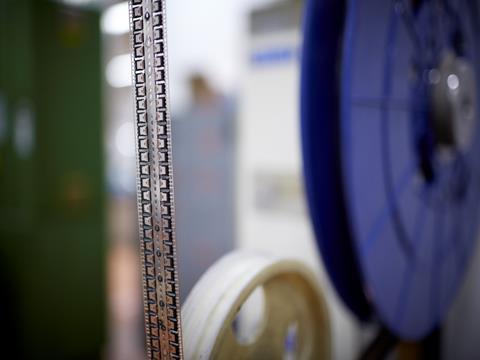 NXP Semiconductors, one of the earliest members of AIPIA, has released a new family of Near Field Communication (NFC) integrated circuits (ICs) featuring tamper-detection and condition-monitoring functionality on a single chip, it says.
The NTAG 22x DNA family of NFC tags is designed for use in consumer brands, as well as with healthcare and smart-home products. It includes cryptographic security, in addition to either conductive or capacitive tamper protection and can be built with capacitive sensing-based moisture, pressure or fill-level detection.
Christian Lackner, NXP's segment manager for smart products authentication and IoT security, says the new tags are designed to provide not only tamper detection, but also condition measurements using the power of a smartphone's NFC interrogation. The NFC tag, compliant with ISO 14443, offers battery-free sensing and two forms of tamper detection.
The conductive version uses a simple conductive loop built into a tagged label that can be fixed to a closed bottle cap. When the wire in that loop is broken, it triggers the writing of an opened status into the chip's memory. The next time a retailer or customer interrogates the tag, the opened status would then be displayed on the user's smartphone.
With capacitive tamper detection, the tag's electronics are connected to a capacitive structure, or to electrodes (metal plates) aligned on top of each other. If a tag has been tampered with, the capacitance has been changed and the opened status is stored in the chip's memory once the tag is tapped against an NFC phone. This latter version of the tag can be more difficult for hackers to reconstruct.
While the conductive mode is often best suited for tamper-evident labels and seals (for which a simple open or closed status would be enough), the capacitive mode is designed for the integration of tags into physical products and presents a barrier to fraudulent reconstruction.
In addition, capacitance can enable sensing measurements, such as changes in an item's environmental conditions—moisture, pressure or fill level. When an NFC reader interrogates the tag the energy from that is used to capture data and send it back to a reader. When a smartphone reads the tag through a mobile application, users can compare the change against pre-configured limits.
NXP expects the product to be used not only for brand authentication and tamper evidence, but also for healthcare, as well as smart-home and retail applications. The tags can measure moisture levels for smart wound care, provide fill-level sensing for smart injectable dosage devices, and offer consumer product refill reminders. Electrodes are built into the tag, running down the side of a bottle and enabling users to view whether that bottle is full, empty or three-quarters filled, so can even be used on opaque bottles.
Additionally, Lackner says, the NTAG 22x DNA's cryptographically secure authentication message dynamically changes every time a tag is read, helping to make the taps unclonable, without requiring an application on the phone. The chips are commercially available now and early deployments are focused on appliances and healthcare products, along with luxury-brand drinks, such as wine and spirits, that require an intelligent enclosure.
With the number of NFC-enabled phones forecast to reach almost 4 billion by the end of 2023, Lackner says, half the world's population could soon have an NFC reader in hand. With these tags, "You don't need to install an app on your phone to access the data. The system takes the phone directly to the link. I personally find this is breaking down a big barrier."
This article was created in collaboration with AIPIA (the Active and Intelligent Packaging Industry Association). Packaging Europe and AIPIA are joining forces to bring news and commentary about the active and intelligent packaging landscape to a larger audience. To learn more about this partnership, click here.