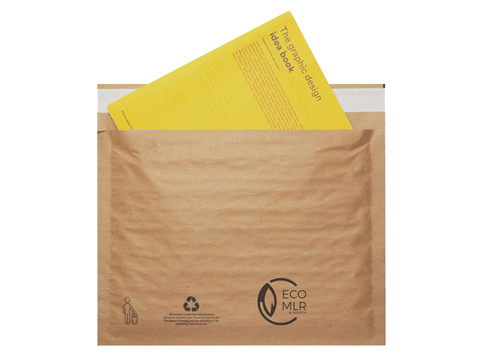 Antalis reports that its new Paragon ecoMLR paper mailer is a lightweight, recyclable, and impact-resistant alternative to single-use mailing items that optimises functionality and meets consumer expectations.
Developed in response to increasing demand for eco-friendly packaging solutions, the mailer seeks to replace bubble and padded mailers with a strong and durable alternative that will protect the product it delivers and optimise the paper's functionality without impacting its recyclability or general sustainability credentials.
A top rating of 5 stars has been awarded to the ecoMLR under Antalis' Green Star System, which lays out a 'strict set of criteria' including recycled material content, bio-sourced material content, and technical recyclability.
The mailer is manufactured in the UK and claims to be competitively priced.
"The ecoMRL has received excellent feedback from our customers and the end users," says John Garner, head of Sustainability, Innovation and Design at Antalis Packaging. "So far, they have been used for a wide range of applications including a UK online retailer and eCommerce business who now despatches around 30,000 packages a month using the ecoMRL, and a manufacturer and distributor of high quality, digitally personalised books, among others."
At its production site in Rethem an der Aller, Papair is producing a bubble wrap solution made entirely of paper and free from adhesives and synthetics. This innovation has taken the startup to the finals of the Sustainability Awards this year under the pre-commercialised Recyclable Packaging category.
Meanwhile, Mondi's FunctionalBarrier Paper has been applied to the outer layer of easy2cool's paperfloc Eco-Liner e-commerce bag in the hopes of creating a packaging solution for fresh and frozen food made entirely of paper; and Walmart has shared its own efforts to reduce packaging waste in its e-commerce channels by adopting recyclable paper mailers, right-sizing cardboard boxes, and more.
If you liked this article, you might also enjoy:
McDonald's Director of Sustainability in Europe on the company's approach to packaging sustainability
McKinsey on whether or not on-pack sustainability claims affect consumer spending
Perspectives from industry-leading experts on the EU's Packaging and Packaging Waste Directive revisions
A deep dive into the most important packaging sustainability trends and solutions