Next in our Finalist Interview series for the Sustainability Awards is Papair with its Papair Wrap, apparently made from 100% recycled paper. We spoke to the company about this entry, nominated in the pre-commercialised Recyclable Packaging category.
You're a finalist in the Sustainability Awards 2023. Congratulations! To start off, could you summarise your entry, in less than 50 words?
We are absolutely thrilled to be nominated as a finalist! We are a startup from Hannover, Germany, developing innovative technologies to produce sustainable packaging materials, the first of which is PapairWrap©, a 2 layer bubble wrap made from 100% recycled paper, which can help to avoid plastic waste in parcels.
Why do you think the judges were impressed with your entry? Tell us about what is innovative about your project and/or about its impact on packaging sustainability.
There are already various sustainable packaging alternatives on the market. They are usually too cost-intensive or require a large volume to achieve an adequate cushioning effect.
It was important to us to achieve the best cushioning properties with maximum cost-effectiveness with our product PapairWrap. In other words, we help companies choose a truly sustainable packaging solution without sacrificing cost efficiency, safety and ease of use.
PapairWrap is very flexible due to its structure and the arrangement of the bubbles and adapts precisely to the shape of items. With the matching box, goods can be shipped without additional filling material and thus with minimal volume.
Our patented manufacturing process allows us to have the two paper webs together without the use of synthetics or adhesives. This makes PapairWrap a pure material that can be returned to the existing recycling system.
When and how do you intend to launch/commercialize this innovation?
As a start-up, we have managed to develop and finance a machine for our own production. With this, we will initially produce in Lower Saxony/Germany. Our first machine is a pilot system with which we have been producing the first test rolls of PapairWrap at our mechanical engineering company since March 2023.
From August onwards, production will take place in Lower Saxony/Germany. The interest in our product is huge. With the first rolls, we are already supplying customers with so-called trial packages with which they can test the use of PapairWrap. With the procurement and use of two more lines with a higher degree of automation, we will be able to produce and sell significantly larger quantities by the end of 2023.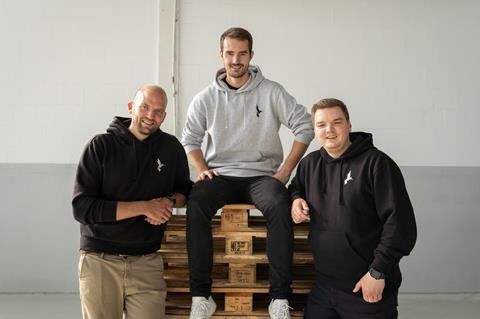 You're shortlisted for the pre-commercialized category for Recyclable Packaging. What do you see as the key demands and challenges in relation to design for circularity in packaging?
Packaging serves to protect goods and commodities. Packaging must therefore be developed that is robust, functional and yet environmentally friendly. We already meet these requirements very well with PapairWrap.
Packaging made of mono-material can be recycled much more easily because it does not have to be separated and sorted at great expense. The choice of material therefore plays a decisive role and should support the circular economy. Especially for the end consumers, packaging must be able to be easily and clearly fed into the recycling process. This ensures consumer acceptance and increases the recycling rate.
The awareness among consumers is definitely there. Packaging recycling should be as simple as possible for them. This includes not only pure materials but also sufficient recycling capacities and technologies.
The goal of the entire industry should be to implement environmental thinking into the entire value chain with a holistic approach. The development of uniform standards and legislation to promote sustainable and recyclable packaging can support the recyclability of packaging and help to avoid environmentally unfriendly packaging.
We can only achieve this through joint efforts!
What do you think are the main opportunities in this area or what future innovations do you predict in this area?
The packaging industry is facing great challenges. The demand for sustainable packaging solutions that meet high standards will continue to grow. The development of new packaging and packaging alternatives is in full swing and they have the potential to advance the packaging industry.
The key words are intelligent packaging and packaging optimisation. Furthermore, the trend is towards reusable solutions, especially for food. Recycling processes are increasingly being optimised to save raw materials and provide high-quality recycled products for reuse.
In all of this, however, it is crucial that we are factual and honest and work together to arrive at truly environmentally friendly solutions. Consumers are increasingly critical and question statements and labels. Greenwashing solutions will not last long. Once again, these are challenges that we must all actively face together if we want to drive change.
The winners of the Sustainability Awards 2023 will be announced at the Sustainable Packaging Summit, which takes place in Amsterdam on 14-15 November. The Summit mobilizes leaders of the FMCG value chain, policymakers, NGOs, recyclers and investors to collaborate, remove barriers and identify opportunities on the road to sustainable transformation.
To learn more or register, visit https://www.packagingsummit.earth/amsterdam2023/.