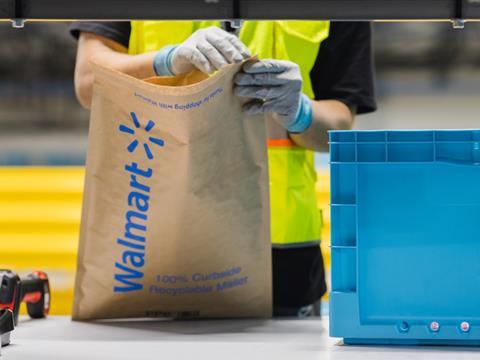 Walmart is seeking to reduce the amount of packaging waste generated through e-commerce by transitioning into recyclable paper mailers, right-sizing cardboard boxes, offering consumers the chance to opt out of single-use plastic bags for online pickup orders, and more.
Online orders for multiple items can now be consolidated into fewer boxes, it is claimed, with the company seeking to cut down on both waste and the number of shipments. Furthermore, around half of Walmart's fulfilment network is in the process of transitioning to right-sized packaging technology in a bid to optimise the amount of cardboard used to transport products.
Right-sizing each pack is expected to facilitate a 60% reduction in filler and reduce waste caused by oversized boxes by up to 26% - which, in turn, hopes to improve consumers' unboxing experience.
Almost all orders shipped from fulfilment centres and stores, as well as marketplace items shipped with Walmart Fulfillment Services, are set to be delivered in recyclable paper bag mailers – a move hoped to eliminate 65 million plastic bag mailers, the equivalent of 2,000 tons of plastic, from circulation in the US by the end of this fiscal year.
Giving consumers the option to turn down single-use plastic bags is also hoped to keep millions of such bags out of circulation every year. Walmart claims that online tests have demonstrated 'promising adoption rates' for pickup orders delivered in alternative, sustainably-minded packaging, and a nationwide roll-out is expected to be completed by the end of 2023.
Electric delivery vans are being implemented to deliver multiple orders on single delivery routes to increase the sustainability of the delivery process. Additionally, the retailer has begun utilising AI to identify whether a purchased item can be fulfilled from one of its 4,700 stores instead of fulfilment centres – this is thought to activate its end-to-end network, improve delivery times, and reduce both fleet miles and emissions.
As Walmart reports a 27% growth in its e-commerce operations, it claims to continually invest in 'the right omnichannel capabilities' in order to meet changing demands amongst consumers and encourage sustainable progress in its business and fulfilment network. Its long-term goal of achieving net zero emissions by 2040 forms part of the company's overall plans to become more regenerative.
"Our commitment to regeneration is core to who we are and how we innovate at Walmart. Customers have told us how excited they are about these enhancements to make it easier for them to make more sustainable choices that support the planet and the next generation," said Karisa Sprague, senior vice president, Fulfillment Network Operations, Walmart U.S.
"With a Walmart store located within 10 miles of 90% of the U.S. population, we can make a meaningful difference for our customers by strategically using our stores and last mile delivery network to reduce waste and emissions," added Jennifer McKeehan, senior vice president of End-to-End Delivery at Walmart U.S. "I'm proud of the efforts we've made and will continue to make as we keep regeneration at the forefront of delivery."
In late 2022, Walmart worked with P&G and TerraCycle to offer a free, in-store recycling collection service for used hair care, skin care, and cosmetic packaging at 25 of its locations.
Marks & Spencer has also unveiled a 'Bring Your Own Bag' click-and-collect initiative with the aim of saving an annual 10 million units of plastic by phasing out traditional plastic carriers where they are not needed.
While Smithers notes right-sized packaging and smooth unboxing as favourable factors for brands designing effective e-commerce packaging, DPack has warned that product returns are becoming part of the online shopping experience, especially where damaged packaging is concerned. This drives up the cost for retailers, apparently losing American businesses between $120 to $150 billion in the holiday season.
If you liked this article, you might also enjoy:
McDonald's Director of Sustainability in Europe on the company's approach to packaging sustainability
McKinsey on whether or not on-pack sustainability claims affect consumer spending
Perspectives from industry-leading experts on the EU's Packaging and Packaging Waste Directive revisions
A deep dive into the most important packaging sustainability trends and solutions