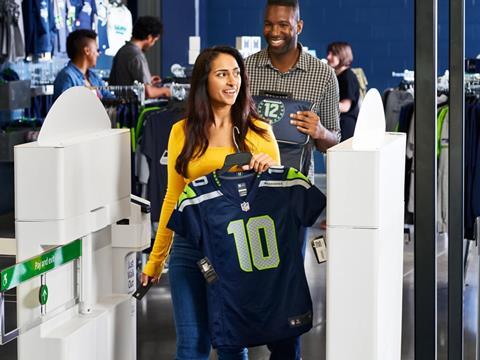 Amazon and Avery Dennison have expanded the checkout-free, computer vision shopping solution Just Walk Out with RFID technology to enable its application to softlines like clothing and sports merchandise.
At checkout-free stores, products are displayed within the line of sight of a computer vision system. Using cameras, shelf sensors, sensor fusion, and such AI technologies as computer vision and generative AI, Just Walk Out enables customers to purchase their desired product without having to queue to pay.
This is thought to be a more cost-efficient and revenue-driving system than conventional shopping experiences and has thus far been used at entertainment venues, airports, universities, stadiums, and grocery and convenience stores in the United States, United Kingdom, and Australia. It has sold food, beverages, groceries, home goods, and more.
However, the success of this system has previously relied on bag or box packaging for visibility, which becomes a drawback when consumers want to feel and try on items of clothing, or return them to other locations within the store. To overcome the issue, Amazon has worked alongside Avery Dennison to combine its Just Walk Out technology with radio-frequency identification (RFID).
With the new system, consumers can apparently pick up, or even wear, articles of clothing as they pass through an exit gate, where they can tap a debit or credit card or use an Amazon One palm recognition device. Each item will feature a unique RFID tag, which will be read by RFID readers to charge the product to the preferred method of payment; the receipt will then be accessible online.
"Amazon's Just Walk Out technology is an exciting example of how RFID technology is disrupting traditional retail models," stated Bill Toney, vice president of Global RFID and Digital Market Development at Avery Dennison. "Avery Dennison has been working closely with Amazon from the beginning of this initiative to enable the use of high-quality, advanced RFID sensor technology to establish a fast and reliable automated checkout process. No queues or scanning products ultimately means an improved, differentiated, and frictionless customer shopping experience."
The combined technologies were piloted at Climate Pledge Arena in Seattle, Washington, for a select number of games at the end of Seattle Kraken's ice hockey season. At Lumen Field, home of the NFL's Seattle Seahawks, the previous installation of a Just Walk Out store reported a 112% increase in total sales per game, and the RFID technology is now being launched at the Seahawks Pro Shop Outlet.
Todd Humphrey, senior vice president of digital innovation and fan experience for NHL's Seattle Kraken, said: "At Climate Pledge Arena, we're continuously looking to innovate and improve the in-arena experience for our fans. Amazon's Just Walk Out technology with RFID allows for a fast and easy way for our fans to grab their favorite Kraken gear and get back to the game—and our fans loved the experience."
"Delivering a great fan experience is central to everything we do here at Lumen Field, and our customers love the convenience of Amazon's Just Walk Out technology," continued Zach Hensley, Seahawks vice president of operations and general manager of Lumen Field. "Eight of our concessions locations are already using Just Walk Out technology and seeing great results.
"Now, we are excited to be the first NFL stadium with an RFID-enabled Just Walk Out technology store so fans can grab their favourite hats, jerseys, and more, and simply walk out. We are seeing great traction for this new store, and our fans are enjoying the experience."
Moving forward, Amazon anticipates a further rollout for RFID and Just Walk Out technology – hoping to offer consumer convenience, cost optimisation and increased revenue for retailers and store owners, and convenience throughout the shopping experience.
Last year, L'Oréal piloted a pop-up shop in its Königsallee store using Avery Dennison's Payfree, an advanced Self-Checkout Technology. The solution sought to offer customers a convenient, seamless checkout.
Walmart and Nordstrom also required their suppliers to tag products including household items, hardware, toys, clothing, shoes, and baby equipment with RFID tags from September 2022.
Global retail management software provider Teamwork Commerce launched its own RFID-Powered Self-Checkout solution this year, with a similar goal of simplifying consumers' checkout experience.
If you liked this article, you might also enjoy:
The Lidl approach to packaging sustainability
How did Brazil achieve its 100% aluminium can recycling rate – and can it be replicated in the EU?
Experts have their say on the EU's Packaging and Packaging Waste Directive revisions
A deep dive into the most important packaging sustainability trends and solutions