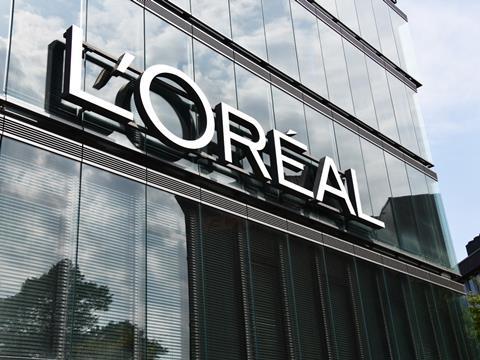 L'Oréal has piloted a pop-up shop in its store in Königsallee, Düsseldorf, Germany using Payfree and Avery Dennison's advanced Self-Checkout Technology to offer customers a convenient, seamless checkout.
AIPIA member Avery Dennison has developed special RFID tags to meet the specific requirements of the beauty industry and its products. The store was open until the end of November.
Instead of queuing at checkout, customers purchase their selected products by passing them through a scanning unit, which automatically registers products via RFID tags. The partners say this showcases the first grab-and-go checkout in the beauty sector.
Payfree has already successfully implemented its grab-and-go checkout in other retail segments, such as apparel and merchandise, for example at the German football club Eintracht Frankfurt. Beauty products, however, are more challenging to tag than clothing: Liquids and metallic surfaces like foil packaging generally inhibit signal transfer during RFID communication.
With its expertise in label development and manufacturing. Avery Dennison has overcome these challenges with beauty-ready RFID tags. It claims to be the first company to offer an on-metal tag at a price that makes high-volume tagging feasible. The technology used at the L'Oréal pop-up shop may pave the way for seamless checkouts not only in the beauty segment but also for appliances for food or convenience products.
"The beauty industry is undergoing drastic change. An increasing number of consumers find products online or on social media, buy them online and easily switch from one brand to another. Combining our advances in RFID technology with Payfree's know-how in RFID-based seamless checkouts, we can offer brands a unique solution to satisfy their customers and build brand loyalty," said Uwe Hennig, director market development Apparel, Beauty & Food Intelligent Labels EMEA, Australia, and India at Avery Dennison.
"This pop-up shop is all about the immersive brand experience. Our goal is to excite our customers while providing a number of beauty and shopping services. We want our customers to have a rich, memorable shopping experience. Payfree is the perfect partner to achieve that. Their checkout solution requires little space and integrates seamlessly into our store concept," added Jonas Lischewski, brand director at L'Oréal Luxe.
This article was created in collaboration with AIPIA (the Active and Intelligent Packaging Industry Association). Packaging Europe and AIPIA are joining forces to bring news and commentary about the active and intelligent packaging landscape to a larger audience. To learn more about this partnership, click here.