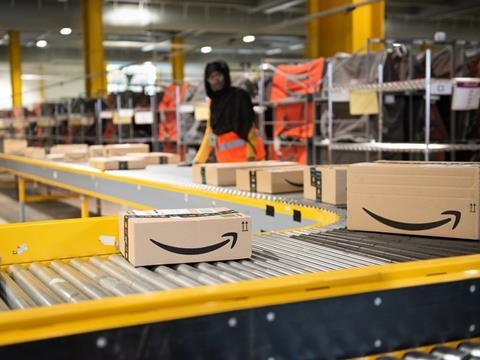 Amazon has announced today that 100% of its delivery packaging in Europe—the boxes, bags and envelopes needed to get products to customers—is now recyclable. This includes items sold by Amazon, as well as third-party selling partners that use Fulfilment by Amazon (FBA).
All customers are now receiving their orders in flexible paper bags, cardboard envelopes and corrugated cardboard boxes – all of which are recyclable in household recycling across Europe. In the past year, Amazon says it has also grown the number of products shipped without any additional Amazon packaging by more than 50% in Europe.
These combined initiatives mean the company estimates it has avoided using more than 1 billion single-use plastic delivery bags from its European distribution network since 2019.
Amazon is working with vendors to increase the number of products delivered in easy-to-open, original packaging made from cardboard and paper, that is recyclable and ready to ship to customers without an additional Amazon bag or box. Products are shipped with just an address label added. When packaging is still required, the company aims to use lighter, appropriately sized packaging to reduce waste and carbon, while ensuring products arrive safely.
"We're excited that our European fulfilment network is now using recyclable packaging for customer orders," said Pat Lindner, VP of Mechatronics and Sustainable Packaging at Amazon. "This is part of our long-term work to be a leader in sustainability, and we'll continue to invest in innovative technology, machine learning, and more sustainable materials to ensure packaging—whether used by us or other companies—is good for our customers, communities, and the planet."
In addition to piloting padded envelopes made only with paper and reusable delivery bags across Europe, Amazon is implementing incentives for selling partners to reduce their packaging across its value chain.
For every shipment that requires packaging, Amazon uses its in-house to determine the type and size of packaging needed. Machine learning helps the company determine which smaller products are suitable for flexible packaging with a lighter footprint, such as paper bags.
Over the past five years, Amazon says that these algorithms have reduced the use of cardboard boxes by over 35%. Amazon also uses algorithms to help its fulfilment centres maintain the right mix of box sizes and to reduce packaging for shipments with multiple items.
The company is also the co-founder of and the first signatory to The Climate Pledge, a commitment to reach net-zero carbon by 2040. As part of this goal, Amazon aims to achieve 100% renewable energy across its operations by 2025, and already has more than 9,000 electric delivery vehicles in its global delivery fleet.
Back in May 2022, nearly 49% of Amazon's shares voted in favour of the retailer addressing its use of plastics at its Annual General Meeting, according to Oceana. This was accompanied by a report suggesting that Amazon had generated around 709 million pounds of plastic waste through e-commerce sales in 2021, exceeding its 2020 estimate of 599 million pounds by 18%.
Since then, the company has made a number of announcements related to changes within its packaging portfolio – such as trialling automated packaging machines for on-demand, made-to-measure paper bags that seek to cut down on pack volume and weight, and encouraging brands to deliver items in their original packaging, negating the need for extra packaging during delivery.
Indeed, in a conversation earlier this year with Packaging Europe regarding the EU's Packaging and Packaging Waste Regulation, Amazon largely focused on the ability of the EU to "combat excessive packaging and waste in online sales through such legislative measures."
If you liked this article, you might also enjoy:
The L'Oréal approach to packaging sustainability
The way we talk about plastic needs to change – here's how to get it right
What steps is Apple taking to make its packaging more sustainable?