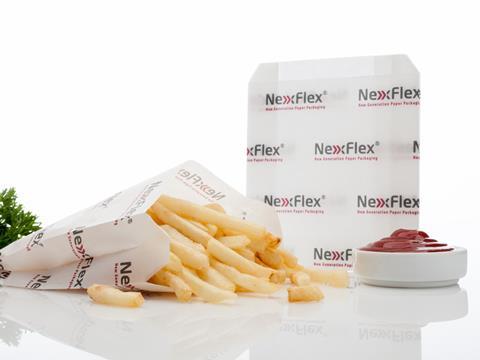 Koehler Paper is launching its NexPure OGR paper packaging with low grammage and high oil and grease resistance for fries, sandwiches, wraps, burritos, and other fast foods.
Koehler NextPure OGR has a grammage of 38 gsm and reportedly utilises natural raw materials for its barrier functions; its grease resistance is said to reach KIT Level 7. Apparently, the fibre material is sourced exclusively from certified sustainable forestry and controlled sources, and the resultant paper is free of fluorochemicals.
Said to offer product protection and 'excellent' processing properties, the paper was designed to meet consumer demand for more sustainable packaging in the fast food sector. The paper is being launched on global markets with immediate effect, and samples are available upon request.
"With this new development, we have produced sustainable fast-food packaging that is entirely free from fluorinated chemical coatings while offering the same properties as those that do," explains Christoph Wachter, director of the Flexible Packaging Paper division at Koehler Group. "This ensures that the paper is fully recyclable.
"The unique arrangement of the paper fibers also enables us to achieve a high whiteness and excellent printability."
Earlier this year, Ahlstrom announced its FluoroFree greaseproof technology in a bid to apply grease resistance to fibre-based packaging for quick service restaurant applications, as well as popcorn and pet food products.
Notpla's water- and grease-resistant packaging formats, featuring a plastic-free barrier made of seaweed, were released at the end of last year.
Grupo Hinojosa has also produced a line of recyclable primary packaging in three different ranges – Food Container, Beverage, and Dairy – in an effort to cut down on single-use plastics in the foodservice sector.
If you liked this article, you might also enjoy:
McDonald's Director of Sustainability in Europe on the company's approach to packaging sustainability
McKinsey on whether or not on-pack sustainability claims affect consumer spending
Perspectives from industry-leading experts on the EU's Packaging and Packaging Waste Directive revisions
A deep dive into the most important packaging sustainability trends and solutions