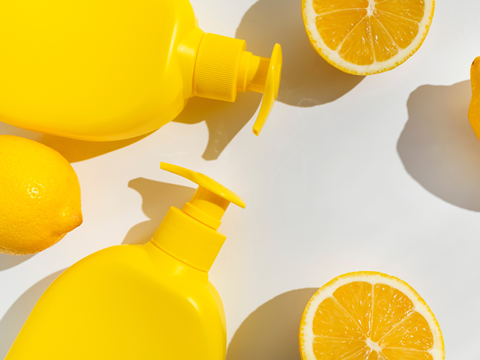 P&G has created a pump dispenser made entirely from plastic that does not need to be disassembled in order to be recycled, including a plastic spring that the company says does not lose stiffness over time. 
While the majority of components in a traditional pump dispenser are made of polyethylene or polypropylene, pump assemblies also often contain a steel spring that moves and releases a ball valve to access the liquid products. These metal springs make it difficult for the pump dispenser to be recycled in existing recycling streams.
Simply replacing the spring with a polyethylene or polypropylene alternative is not an immediate solution, however. P&G points out that plastic springs have different mechanical and chemical properties to steel springs, such as an elastic modulus between 50x and 150x lower than steel, and the tendency to lose stiffness with repeated use due to creep forces, cycling loads, and/or reactions with the liquid product.
Other designs have reportedly incorporated its plastic spring into the pump head to prevent it from coming into contact with the product – yet this impacts the height of the pump assembly, and with the shelf height of beauty and personal care products usually set by retailers, this can lead to impracticalities.
Therefore, P&G's recently-patented design – while preventing damage to the spring, or the leaching of plastic into the product itself, by designing the spring into the lid – claims to measure at heights of less than 40mm, or as low as less than or equal to 20mm, from the neck landing zone to the top of the pump head in locked storage configuration. This allows the packaging to fit on retail shelves without the need to redesign the bottle itself and impact branding.
Furthermore, its complete utilisation of recyclable plastic is thought to facilitate an entire bottle to be recycled in a single stream without the need to disassemble the pump dispenser.

Berry Global previously developed a 100% polyolefin 2cc dispenser containing no metal parts – expected to be applied to PET bottles and facilitate full circularity where the appropriate recycling facilities exist.

Henkel also repackaged its Pril handwashing liquid in a 100% recycled PET pump dispenser bottle. It can also be reused, with product refills sold in Mondi's recyclable mono-material PE pouch.