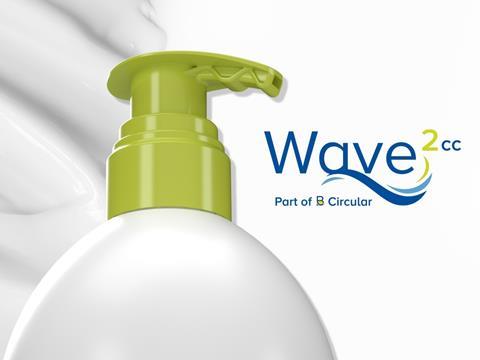 Berry Global has developed a 2cc dispenser made from 100% polyolefin with no metal parts, which the company says makes it recyclable when paired with PET bottles where appropriate facilities exist.
According to Berry, the Wave2cc dispenser responds to market demand for a more sustainable version of the pump format that is widely used for personal care products including liquid soaps, body lotions, body milks, shampoos, conditioners, and hair treatments.
Berry says the dispenser is made from 100% polyolefin without the addition of metal parts, which means it can be recycled when paired with PET bottles and where corresponding facilities are in place. The Wave2cc has gained a RecyClass A rating.
A user-friendly benefit of the Wave2cc dispenser is its locking system, Berry claims. The locking system can operate in both clockwise and anti-clockwise directions, which the company says offers added convenience for consumers.
The dispenser is also designed with a reduced number of components, with the Wave2cc having just 8 compared to the 12 to 14 components typically found in other dispensing solutions, Berry explains.
Berry adds that for the personal care e-commerce market, the strength and construction of the Wave2cc has achieved the ISTA6 certification when combined with Berry's range of stock bottles in 200ml, 250ml, 500ml and 1 litre sizes. The robust design of the dispenser apparently means it can handle more viscous formulations, such as hair conditions, which the company says will help to ensure consistent, reliable, and accurate dosing.
For manufacturers, Berry explains that the Wave2cc offers flexibility and adaptability as a multifunctional solution that can be used across entire product ranges. This could simplify supply chains and provide economies of scale, according to the company.
For example, Berry notes that the locking system also gives the dispenser greater flexibility in meeting the requirements of different filling lines. The company adds that the dispenser can be adapted to different actuator styles and closure sizes to satisfy individual branding requirements.
Jean-Marc Galvez, president of the Consumer Packaging International (CPI) Division at Berry Global, comments: "Circular innovation plays a fundamental role in delivering the sustainable and versatile dispensing solutions our customers demand.
"We are proud of our new Wave global platform. Our significant investment will sustain our global leadership in circular dispensers meeting local needs across our global manufacturing footprint."
Vincent Clauzel, head of Berry CPI Care, concludes: "This significant investment in our new Wave platform demonstrates our global design and engineering expertise in the development of products that meet the latest consumer and market requirements.
"In particular, as part of our B Circular initiative, it underlines our commitment to create packaging solutions that maximise the many benefits of plastics while ensuring the packages can also play a valuable role in the circular economy."
The 2cc size is the first in Berry's new Wave atmospheric dispenser platform, with 3cc, 4cc and 0.25ml versions expected to launch in the future. In addition, Berry will reportedly offer the Wave2cc dispenser containing up to 70% post-consumer recycled (PCR) material.
The new dispenser will be available from the end of 2022.
Other recent innovations from Berry Global that focus on combining sustainability with convenience include a closure for sauce bottles that is over 20% lighter than the previous version, as well as a multidose ophthalmic dropper developed with PYLOTE's mineral innovation that offers antimicrobial protection.