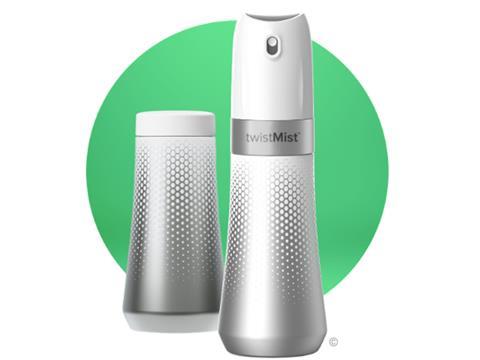 APS has unveiled twistMist – a twist-activated, propellant-free, reusable aerosol technology that the company says is the first of its kind on the market.
twistMist is a continuous dispensing technology that eliminates the need for pressurized tinplate, aluminum or plastic cans and allows brands to switch to recyclable plastics (HDPE, PET), metal, or glass bottles. APS says that the solution's reusable head makes the system the only aerosol that allows refills, and that it can be reused for up to 10,000 spray cycles.
The company also reports that the sustainability impact of twistMist has been independently quantified by Leeds Beckett University via an ISO Life Cycle Analysis study comparing it to in-market aerosols. Based on this study, twistMist reportedly delivers "up to a 90% lower CO2 footprint" when compared to a traditional tinplate, LPG-powered aerosol.
The spray functions in any upright or upside-down orientation, with the aim of allowing coverage of hard-to-reach areas.
"We wanted to challenge the paradigm by asking ourselves: "How could we create a continuous spray experience that consumers love so much in aerosols without all the negatives associated with pressurized packaging?" says Brad Barron, Chief Innovation Officer of Alternative Packaging Solutions (APS) and a P&G packaging alum. "It took us eight years of development and significant investments to de-risk twistMist technology. We are now at the point where leading FMCG players can place consumer tests using launch-ready samples produced on an automated assembly line."
To bring twistMist to the market, APS partnered with DCA International on engineering design and with Lindal Group for technical development and production. "Our partners were instrumental in making twistMist a reality", says CMO of APS and P&G brand alum, Dennis Ossipov-Grodsky.
The solution was recently named as a winner of the 2023 U.S. Plastics Pact Sustainable Packaging Innovation Award in the Reuse/Refill category.
If you liked this article, you might also enjoy:
The Lidl approach to packaging sustainability
How did Brazil achieve its 100% aluminium can recycling rate – and can it be replicated in the EU?
Experts have their say on the EU's Packaging and Packaging Waste Directive revisions
A deep dive into the most important packaging sustainability trends and solutions