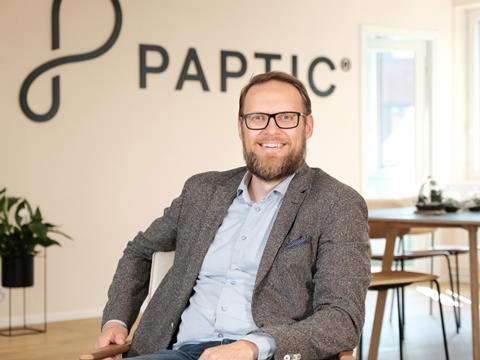 Paptic has raised €23 million in growth financing in preparation for the industrial scale-up of its foam-based manufacturing technology, the expansion of its product portfolio, and its 2030 target for carbon neutrality.
Apparently, Paptic has more than doubled its revenue every year for four consecutive years, placing it on track to reach a €100 million revenue in 2026 with what it claims to be renewable and recyclable at-scale packaging materials.
New strategic partners and international equity investors, such as the European Circular Bioeconomy Fund (ECBF) and Ecolab, have expanded the company's shareholder base. Earlier shareholders such as Itochu Fibre Ltd. have also participated in this financing round, and Paptic has received €2.5 million from the European Innovation Council's Accelerator programme.
The Finnish Climate Fund has also provided Paptic with a €10 million non-dilutive capital loan, which is dedicated specifically to the scale-up of Paptic's foam-based manufacturing technology.
The growth will support Paptic's production partnerships and the global availability of its materials.
Tuomas Mustonen, CEO and co-founder of Paptic Ltd, says: "Our rapid progress from a startup to a high-growth company, with Paptic materials in use by over 100 customers globally, has made us an appealing investment opportunity and we are delighted to welcome our new international investors to join us.
"A cornerstone of our operation is to work in accordance with the principles of circular economy, to this end, we support our customers to replace plastics in various flexible packaging applications. Expanding our global shareholder base was one of the targets of this round, and I am very satisfied with the outcome."
ECBF is said to be the first venture capital impact fund dedicated exclusively to the bioeconomy and circular economy and aims to drive the transition into a sustainable future.
"The versatile applicability of recyclable Paptic materials provides an excellent basis to reduce the use of fossil materials in packaging," Guillaume Gras, investment director at ECBF, comments. "Our investment will provide Paptic with the resources to accelerate its international expansion, as well as to serve the growing demand for innovative packaging materials."
Ecolab is a global sustainability leader in water, hygiene, and infection prevention solutions. It sets its sights on sustainable solutions, deep scientific expertise, and broad industry relationships, which is expected to enhance Paptic's shareholder base and facilitate business for both companies – including Paptic's expansion into North America.
"We are excited about the opportunity to support circularity through our investment in Paptic and its successful approach to sustainable packaging," Luis Pereira, senior vice president and general manager of Ecolab's Nalco Water Paper Division, continues. "Our shared vision of protecting our planet and its vital resources serves as a foundation for this partnership.
"Our expertise and broad offerings, combined with our global reach, will help expand Paptic's opportunities for growth."
Having invested in Paptic for the first time in the autumn of 2021, Itochu – one of the largest Japanese trading houses – has now increased its share in the company.
"We are thrilled to announce our ongoing support for Paptic as they embark on their journey towards further growth," says Yuto Suzuki, general manager of Itochu Europe Plc. "Through our continuing support for Paptic, we actively contribute to their mission and pave the way for a more sustainable future.
"Together, we can empower both existing and new customers to make conscious choices and drive positive change in our efforts to protect the environment."
Meanwhile, Finnish Climate Fund is a state-owned, special-assignment company seeking to tackle climate change and drive the low-carbon industry.
Toni Mikkonen, director of investments at Climate Fund, says: "Paptic supports its customers to switch to renewable and recyclable raw materials. The Finnish Climate Fund's mission is to accelerate the deployment of new solutions that have significant climate and environmental impacts, and high-grade biomaterials play an important role in this."
Mustonen concludes: "We are very happy that our work and solutions to reduce the use of fossil-based materials in flexible packaging are recognized as sustainable and commercially viable alternatives for today and tomorrow. With this funding, we will improve our market presence, sales network, and services to our customers.
"Additionally, this investment will enable us to further strengthen our sustainability performance and expertise, ensuring that we can exceed the requirements of our customers and tightening regulation.
"This growth investment will accelerate and support our goal to reach EUR 100 million of revenue in 2026 and attain carbon neutrality target by 2030."
As the global flexible packaging market is estimated to be worth over €200 billion annually, 70% of which is currently made of plastic, Paptic asserts that its renewable and recyclable materials could replace over half of end uses. Climate targets in the EU and other markets are also contributing to growing interest in replacing thin plastic films.
Paptic intends to accelerate its growth in Asia and expand into new regions such as North America, driven by forecasts suggesting that economic and population growth are causing an increase in packaging. It hopes to replace future plastics with packaging made from raw materials and compatible with existing recycling streams.
In similar news, Amcor's Lift-Off initiative, which intends to support start-ups in scaling up their technologies, has invested $250,000 into smart reusable food packaging company circolution and $500,000 into Greyparrot's AI-powered waste recognition system.
It has also launched a Lift-Off session dedicated to Michigan State University for packaging-related start-ups amongst students and the university's wider network to win up to $250,000 in seed funding.
If you liked this article, you might also enjoy:
The Lidl approach to packaging sustainability
How did Brazil achieve its 100% aluminium can recycling rate – and can it be replicated in the EU?
Experts have their say on the EU's Packaging and Packaging Waste Directive revisions
A deep dive into the most important packaging sustainability trends and solutions