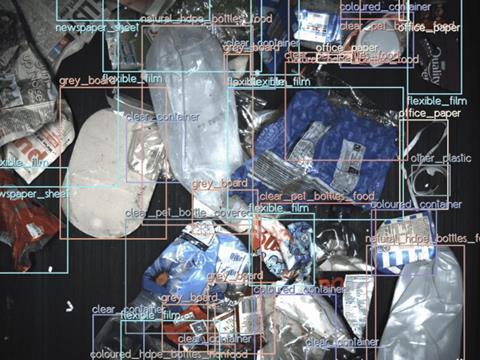 Greyparrot has been announced as the latest winner of Amcor's Lift-Off programme for its AI-powered waste recognition system. It will receive a $500,000 investment and access to Amcor's sustainability and packaging capabilities in the hopes of scaling up its technology and pursuing a circular economy.
Greyparrot's computer vision systems utilise artificial intelligence to collect data during the monitoring and sorting of large waste flows at resource recovery facilities. This data is provided to waste managers, producers, and regulators and aims to help them develop sorting, recycling rates, and accountability throughout the waste value chain.
"Amcor's Lift-Off program has established partnerships with a number of companies that are at the forefront of new technology that will drive sustainability in a variety of ways," explained Frank Lehmann, vice president of Corporate Venturing and Open Innovation at Amcor. "We're excited by Greyparrot's technology to deliver valuable information on the life cycle of packaging and other waste and get a clearer understanding of the waste value chain and how we can improve."
Mikela Druckman, co-founder and CEO of Greyparrot, added: "Data is vital in the effort to close the loop on circularity, from improving resource recovery to informing packaging design and regulation. Through the support of Amcor and its Lift-Off program, we're one step closer to digitising the waste sector, and we're excited to be entering into a new partnership with one of the most impactful organizations in the waste value chain."
Amcor's Lift-Off programme was launched last April. As an open call for seed-stage start-ups geared towards innovative packaging solutions, it centres on the focus areas of alternative barriers, smart and connected packaging, new business models, biomaterials, fibre, and recycling.
Bloom Biorenewables Ltd. and Nfinite Nanotechnology were subsequently announced as the first winners of the initiative. The companies convert plant waste into packaging chemicals and develop smart nanocoatings for recyclable and compostable packaging, respectively.
Smart reusable food packaging start-up circolution was the next company to receive an investment in February this year. Its pay-per-cycle 'packaging as a service' system for FMCG brands is designed to complement Germany's existing bottle-deposit system and current supply chain and scaled operation standards.
A Lift-Off session has also been dedicated to Michigan State University to give packaging-related start-ups the chance to win up to $250,000 in seed funding.
If you liked this article, you might also enjoy:
The Lidl approach to packaging sustainability
How did Brazil achieve its 100% aluminium can recycling rate – and can it be replicated in the EU?
Experts have their say on the EU's Packaging and Packaging Waste Directive revisions
A deep dive into the most important packaging sustainability trends and solution