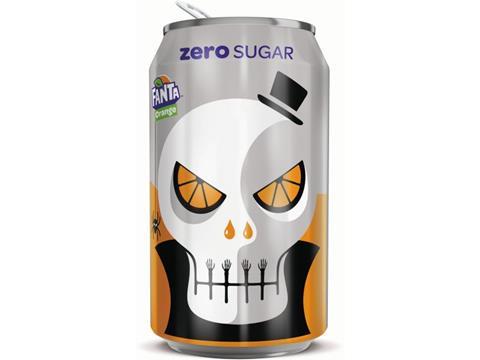 Coca-Cola European Partners (CCEP) has announced the biggest ever Halloween campaign from Fanta, including exclusively designed packaging, smaller 150ml can multipacks and an advertising and experiential marketing campaign.
The new ghoulish graphics on packs of Fanta have been specially designed by renowned artist Noma Bar and will run from 16th September to 11th November, encouraging young adults and gatekeeper mums to stock up for the seasonal occasion.
The spooky packs will also include a code for consumers to unlock exclusive Fanta Halloween-themed Snapchat filters and lenses, which will change daily throughout the campaign to encourage repeat purchases.
As 60% of UK smartphone users are now Snapchatters and with users aged under 25 visiting the popular app more than 20 times a day, the new on-pack promotion will engage shoppers by adding a fun dynamic to Fanta's association with the Halloween occasion, helping to drive more transactions for retailers.
The packaging will appear on a range of plain and PMP formats, including 2L and 500ml PET bottles, 330ml and 6x330ml can multipacks, of Fanta Orange, Fanta Orange Zero, Fanta Fruit Twist and Fanta Fruit Twist Zero*. The Halloween themed packs will also co-inside with the arrival of the 500ml PET Fanta Twist bottle which made its debut in the 2L format earlier this summer.
The brand will also be introducing Halloween themed limited edition 12x150ml mini can multipacks of Fanta Orange Zero and Fanta Fruit Twist Zero. These formats are designed to appeal to consumers who are less frequent buyers of carbonated soft drinks but are looking to stock up on smaller formats for their Halloween festivities.
The Fanta campaign marks CCEP's biggest ever investment in Halloween, and includes a multi-million pound marketing campaign that will feature themed in-store visuals, point-of-sale material, digital out-of-home advertising and experiential and virtual reality 'Fright Night' activity to drive awareness of the brand's Halloween activities.Simon Harrison, customer marketing director GB at Coca-Cola European Partners, said: "Halloween is now the fourth biggest retail event in Great Britain and represents a huge opportunity for retailers and brands alike. Our Fanta Halloween campaign is bigger and better than last year and delivers a real point of difference thanks to the unique Noma Bar illustrations which will help retailers build excitement around the occasion, driving sales as consumers stock up for their celebrations.