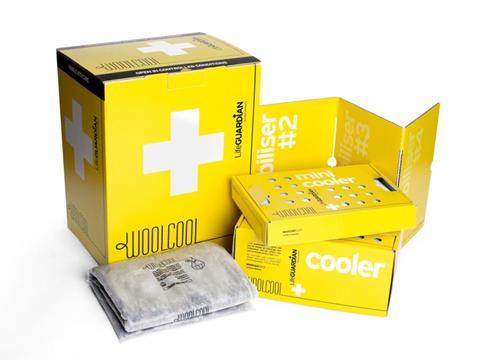 A collaboration between Swanline Print's award-winning design team and UK-based Woolcool, a provider of insulated packaging solutions, has revolutionised the transportation of pharmaceuticals and other perishable products across the world.
Primarily developed for the pharmaceutical industry, but also useful for the food industry, the ground-breaking LifeGUARDIAN solution responds to current failings in cold chain distribution. Incorporating 100 per cent pure, clean sheep's wool that is too coarse for textile use, LifeGUARDIAN is an eco-friendly insulating packaging system developed to address the problem of almost half of all vaccines are deemed unusable upon reaching their destination due to packaging failure. It outperforms synthetic insulation, like polystyrene, to keep temperature sensitive medicines in their optimum environment (2-8ºC) for up to twice as long as industry standards.
Angela Morris, CEO of Woolcool, said: "Swanline has the best packaging design facility in the UK; their highly innovative designers are a pleasure to work with and always create commercially viable solutions in response to our creative briefs. Furthermore, we share similar ideals. Both Woolcool and Swanline are family businesses, with a commitment to supporting the local economy with employment opportunities and sustainable initiatives. We really value Swanline as an important partner."
Swanline's in-depth expertise in corrugated engineering has transformed a box design provided by Woolcool into a viable pre-industrial prototype that addresses many of the challenging aspects of product construction, such as ease of assembly in bulk manufacturing and logistics management.
A key challenge for Swanline in developing LifeGUARDIAN was to combat the formation of condensation on the box surfaces and internal fitments that could weaken the integrity of the package. This was overcome by working with a specialist coatings company which developed a bespoke liquid protection barrier to be applied via Swanline's screen print process. By applying the coating via a screen, it allows for masked-off areas that accommodate delivery tracking labels and recipient details.
Swanline Creative Manager, Linsey Brookes, added: "The aim of the design team and centre is to provide the customer with an innovative yet practical solution that closely meets the brief – although we're always looking to bring additional value with new ideas and development suggestions.
"Working with Woolcool is very rewarding as the solutions we develop together, such as LifeGUARDIAN, have a substantial impact on lives across the world. By using natural resources to improve the effectiveness of packaging, we also reduce environmental impact and waste. We're looking forward to the next project!"
Swanline is Woolcool's partner of choice for the development of new cardboard or corrugated products that require innovative structures. The two companies are currently working together on a new packaging solution for air and sea freight.
More info: