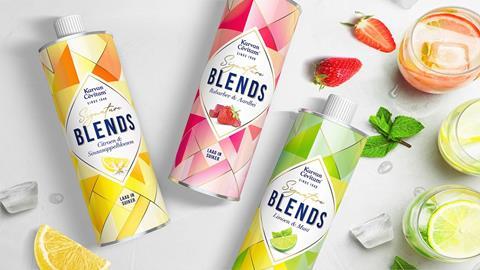 London based brand design agency PB Creative, has partnered with Kraft Heinz to develop a new premium tier for drinks cordial brand Karvan Cévitam.
Founded in the late 19th century, the original liquid was a concentrated fruit product that could be kept at room temperature as fridges were not widely available. In 1948, the brand took its current name, Karvan Cévitam in reference to the introduction of Vitamin C to help alleviate nutritional deficiencies in the Dutch diet as a result of the second World War.
Karvan Cévitam is a market leader in cordials in The Netherlands. Much loved, the product is perceived as being an everyday children's drink with consumers typically losing interest in the brand once they hit their teenage years.
Identifying an opportunity in the market and tapping in to the rising demand for adult focused soft drinks with more adventurous products and packaging, Kraft Heinz briefed PB Creative to create a name, visual identity and packaging designs for the new range. Targeting a more premium audience to Karvan Cévitam core, the new range is aimed at young, pre-family adults searching for an exciting alternative to alcohol.
Working in close collaboration with the Karvan Cévitam brand team, PB Creative has developed a dynamic visual identity for 'Signature Blends,' a lighter, fresher and more sophisticated alternative to the Karvan Cévitam core range, upgrading water consumption occasions and appealing to both men and women. The new premium range includes four flavour variants: Lime & Mint, Strawberry & Rhubard, White Grape & Elderflower and Lemon & Orange Blossom with more variants planned for the future. As with the core range, the product proposition is centred around diluting the contentrate with water with consumers adjusting the strength according to taste, creating their own personal 'Signature Blend.'
The new design retains the recognisable diamond key equity from the core range, which also inspires the faceted diamond coloured background of each pack, aiding varianting and range navigation. Gold typography has been introduced to elevate and premiumise the range aesthetic, while photography led fruit cameos evoke taste appeal and a sense of deliciousness.
Amy Elshenawy, Design Director, PB Creative commented: "Our challenge was to grow Karvan Cévitam penetration within the young adult demographic and to make this consumer group feel proud to put cordials on their table. The visual identity and design for the new range evoke a 'grown up' sense of occasion with almost cocktail shaker like appeal and establish the Signature Blends range as being the champagne of water mixers!"
Fanny Gresset, Senior Brand Manager Local Drinks Brands at Kraft Heinz added: "This is a really exciting new launch for Karvan Cévitam and Kraft Heinz. Signature Blends will allow us to continue to hydrate the nation while reaching a completely new audience with more sophisticated, great tasting usage occasions. PB Creative's disruptive packaging designs reflect the more premium and stylish nature of the range. Consumers now have a 'table-worthy' version of Karvan Cévitam to share with their friends!"