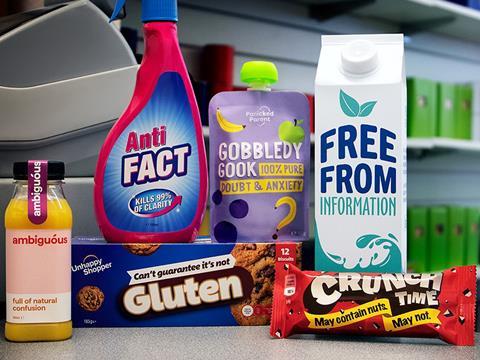 When we walk into a supermarket, we scan the aisles to navigate the countless brands that claim to offer unique variations of the item on our shopping list. We turn over boxes and bottles to gage whether a product contains the ingredients we want and, even more importantly, those we do not. When the products are finally in our homes, we depend on the labels on the packaging to tell us which bottle has the shampoo in it and which box has the gluten free cereal.
But when a person is blind or partially sighted, they are often denied the range of choice that is afforded to most consumers. Even for someone who has some sight, the letters on the packaging can be impossible to read. It becomes difficult to shop independently, and picking the right product is a guessing game.
Marc Powell is the strategic accessibility lead at the Royal Institute of Blind People (RNIB), and he is also registered blind himself. "I guess," he said, "lots of blind people guess what something is, and you get it home and you're like 'Oh, no, it's not the right thing!'". This can be even more of a problem when someone has diabetes or allergies, and having an accurate picture of the nutritional information on packaging is a matter of safety.
"If you can't make an independent choice, then that's going to ultimately really impact the individual," said Powell, "whether they have particular dietary requirements or whether you have a particular allergy, or simply accessing safety information."
When you finally get the correct items home, the problem then becomes telling the products apart. 24-year-old Carley Gregory had lost her vision entirely by the age of 13. Recently, she had a reaction after using shower-gel as body lotion.
"I went in to ask the people I live with which was which, as both bottles were identical," she said. "They told me…and by the time I got upstairs, I couldn't actually remember which one I put in which hand." She went on to add:
"I didn't want to go back down and ask again, so I thought I'd hope for the best. Within three or four days, my skin went really, really tight, dry, and stiff.
"And then I realised I was actually using shower gel instead of body lotion after the shower, and that was quite painful for two weeks."
Before she had this experience, Gregory had started a petition urging brands to start putting braille labels on their products. "I started it to try and make the lives of blind and partially sighted people easier in terms of going out shopping as independently as possible," she said. The petition has gained 30,327 signatures in a year.
According to the RNIB, however, less that 10% of blind and partially sighted people know how to read Braille, and there are further limitations with this system. "We know that Braille isn't the right solution for products because you only get so much information on products, and you can't fit all that information on a box of Kellogg's Special K., for example," said Powell, "you'd need something the size of a wall."
Like braille, tactile indicators also have limitations that prevent them from making packaging accessible to blind and partially sighted people. Powell explained that to benefit from such an indicator, you would need to know what a symbol stands for, which may not be the case considering that there is no universal language for tactile.
"I think tactile has its place in certain products," he added. "You might be in the shower, close your eyes, want to find a product… but I've got to buy this product first and I'm not going to walk around the shop with my hands out and try and feel every product for a tactile indicator."
New technologies such as NaviLens may offer a more accessible alternative, enabling people to scan a colourful code from a distance using their phones, and play back the information on the packaging. Following a successful trial, Kellogg's announced that it will implement NaviLens across its range of cereals.
Powell described the NaviLens code as "a way to present equal levels of information to blind people." He went on to add: "I think what we have to do, for me, is actually build upon the very thing that people are currently missing out on: on levelling the playing field. And that means bringing me up to the same level as somebody who has full sight and allowing me to be on that same platform, and that's accessing information."
Debbie Goddard is the senior philanthropy and partnership's manager at SeeAbility - a UK charity supporting people who have sight loss and learning disabilities or autism.
"If you can walk down a shopping aisle and scan the product, and it tells you what it is, that means you can be independent" said Goddard about the NaviLens technology. "If you are blind, you're not then relying on a support worker to go with you all the time," she added. "It's giving everyone who is visually impaired the independence to go and make their own choices about the things they want to buy."
But keeping the packaging consistent and ensuring that people with sight loss and other disabilities are made aware of new advancements in technology are also essential in enabling people to lead independent lives.
Emily Stewart is supported by SeeAbility and is also employed by them as an associate influencer, working to spread the word about inclusion.
Stewart said that "sometimes you get so familiar with the shape of the packaging, you know what it is, but if it changes, it's like finding a needle in a haystack." She went on to add that the shape is the most important aspect of a package that enables her to recognise the product.
"Especially when we're talking about new advancements, like around NaviLens, brands need to take an active role in promoting that, and actually letting their consumers know what this new colourful code is, why is it useful," said Powell, "and they already have the mechanisms in place to do that."