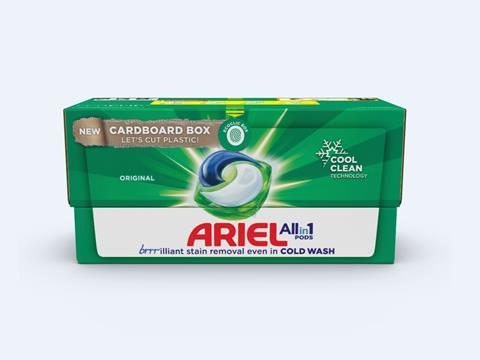 Ariel, a Procter & Gamble brand, will now offer its All-in-1 Pods® in a recyclable cardboard-based box designed with accessibility and child safety certification as a priority. Samantha King, R&D Vice President at P&G Fabric Care Europe, discusses the process behind developing ECOCLIC®, a laundry care box that met the team's certified child safety, sustainability and inclusivity targets.
First things first, could you introduce this innovation to us and talk a bit about its key features and functionalities?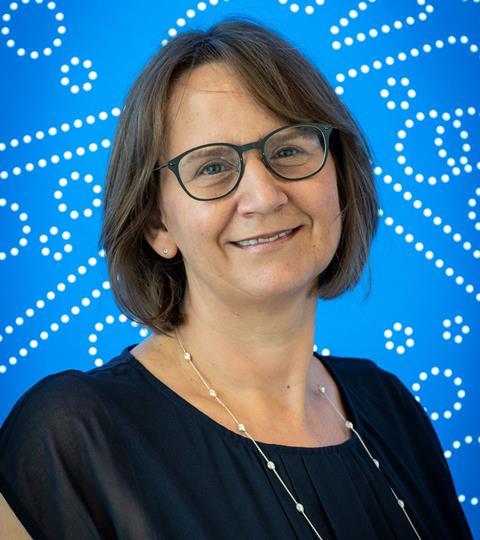 Our new Ariel ECOCLIC® box is the first packaging solution for P&G's laundry products that really 'clicks' all the boxes. Its key features are three-fold.
Firstly, the patent-pending cardboard packaging is made with FSC-certified materials, meaning it's made from well-managed FSC-certified forests and from other recycled materials, which is an important step in our journey to reduce plastic. In fact, if all Ariel Pods® users in Europe switched to the new cardboard ECOCLIC® box, up to 6,500 tonnes of plastic could be saved each year. The pack is also fully recyclable in curbside paper collection streams.
Secondly, this is the first Ariel laundry pack to be both certified child safe and designed with inclusivity in mind. It's one of Ariel's most innovative packaging solutions ever, responding to consumers who told us that dexterity issues made plastic laundry tubs difficult to open. The pack went through over four years of rigorous testing with more than 2,000 consumers from across Europe, including parents and people with dexterity, sight and cognitive impairments. I was so proud to hear that they loved the ease of opening, the box quality and the reassuringly loud 'one click' closure, making clear the pack is closed after use and ensuring little ones stay safe.
Finally, as well as Ariel's packaging, we've also innovated the product inside. Ariel's new Pods® are designed for outstanding stain removal even in cold water thanks to COOLCLEAN technology, which specifically acts on stains and starch present in food. We believe businesses such as ours have a role in enabling people to make sustainable choices. This includes helping consumers reduce emissions generated by laundry in the home.
The ECOCLIC® box is a packaging innovation, but coupled with what's inside, it's supporting a larger ambition for Ariel: to decarbonize laundry at every step of the value chain.
What makes this innovation exciting or innovative from a sustainability and functionality point of view?
It's the trinity of safety, sustainability and inclusivity which makes Ariel's new ECOCLIC® box stand out – I cannot stress to you how difficult it is to achieve all three. Child safety is always the number one priority when designing packaging for laundry products. But we also wanted the new pack to be easier to use for all adults, which had previously been challenging especially for people with dexterity and joint issues.
Consumers have told us that they find Pods® the most convenient laundry format. For those who struggle with dexterity, they are lighter than liquid or powder formats and come pre-dosed, so it was important for us to explore an inclusive packaging solution for our Ariel All-in-1 Pods®.
We're also conscious that people with sight issues see through their fingers, making it challenging to determine one product from another on the shelf or in the cupboard. Ariel's ECOCLIC® box includes a newly created tactile marker and NaviLens technology. Developed by P&G and being piloted on new Pods® packs, a tactile marker – shaped like a washing machine – is embossed on the outside of the box on the top panel, so people with sight loss can easily identify the box as a laundry detergent.
We've also partnered with NaviLens to bring their ground-breaking technology to the pack and help those with visual impairments to identify products in store. The QR code, which can be scanned more than 12 times further away than dense QR or barcodes, triggers an audio description of the product as well as important usage and dosage information, helping visually impaired consumers to use the product.
Did any major technical challenges have to be overcome during the R&D processes behind this innovation?
I'll be honest: at the beginning, there were so many challenges to overcome that it felt like mission impossible! For example, we didn't know if it was even possible to use cardboard for laundry Pods® and achieve the high standards of safety needed. We formed a small multi-functional team that was dedicated to developing this packaging innovation. Working with agility, the team never lost sight of our ambition to create a cardboard pack that was sustainable and inclusive. Having clearly defined hurdles to overcome also helped, because we were able to approach each challenge from multiple angles.
The breakthrough came when observing how our consumer testers engaged with the prototypes. This deep understanding of how young children testing the prototype boxes manipulated the pack versus seeing how adults used the pack in practice ultimately helped the team optimise the design to make it intuitive for adults to open while being child safe.
For example, we know from our research that consumers like the audio-cue 'click' closure of Ariel's packaging, letting them know the pack is safely closed. We spent a lot of time and effort designing the 'click,' and how it would sound using cardboard material. I'm so happy that we did this because consumers keep telling us how satisfying this click is.
Another challenge we had to overcome was the composition of the cardboard, specifically the mix we could use to retain strength but maximise recycled materials. The final pack is a mixture of at least 70% recycled fibres and virgin cardboard, sourced from well-managed FSC-certified forests. This mix ensures strength and has moisture-resistant properties in case it is stored in a humid environment while not compromising the pack's recyclability.
How does this solution fit into P&G's overall sustainability strategy?
The new ECOCLIC® box is vital to Ariel's commitment to helping reduce virgin plastic in our Fabric Care business by 30% in Europe by 2025, and it's critical to Ariel's mission to provide superior cleaning power while decarbonizing laundry at every step. Across our Fabric Care business, we are reducing our impact in every aspect under our direct control. We are striving for circular solutions under the motto of 'less and better plastics' and sustainable packaging innovations, like the new Ariel ECOCLIC® box, are major milestones.
Additionally, by investing in packaging innovations for Ariel All-in-1 Pods®, we are supporting consumers to be more sustainable at home. Ariel All-in-1 Pods® are not only available in the new more sustainable cardboard packaging, but Ariel's product formulations and ingredients also deliver cleaning power even at colder temperatures. The energy needed to heat the water when washing accounts for 60% of laundry's carbon footprint [1], so turning the temperature down to 30°C or below can have a major impact on CO2 emissions if we all take this action – because, for laundry, every degree makes a difference.
[1] Simplified LCA break-down, based on European average.