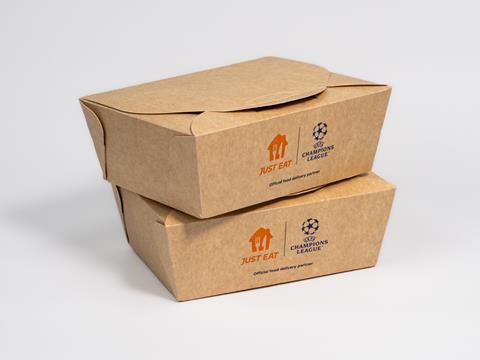 Just Eat, PepsiCo, Heineken, Vytal and Notpla are joining forces to offer reusable and bio-based packaging solutions to fans at the upcoming Champions League finals.
Just Eat says that on average, mass sporting events can generate up to seven tonnes of waste. In a bid to combat the packaging side of this, Just Eat is working with UEFA on an initiative alongside PepsiCo and Heineken.
Fans attending the UEFA Women's Champions League final in Eindhoven on Saturday will be provided with reusable packaging when ordering their meals, which are set to be returned at the end of the match, washed and reused for future events.
Altogether, Just Eat is aiming to replace over 20,000 units of single-use plastic packaging as part of this trial.
This initiative is part of Just Eat's wider strategy of aiming to find innovative solutions to reduce single-use plastic packaging, including through the use of reusables.
Since 2021, the company has worked with different reusable packaging providers to trial the system for the food delivery sector. For the UEFA Women's Champions League final, Just Eat has extended its partnership with reusable packaging provider Vytal, which it already works with in Germany, Austria and the Netherlands, to test the concept at a major sporting event.
Last year, Just Eat Takeaway.com teamed up with Earthshot prize winner, Notpla, to provide 85,000 seaweed-lined packaging to fans across three UEFA football matches. The business says that it is now ramping up this offer across Europe, by expanding the use of Notpla packaging further at mass sporting events.
As part of the partnership with UEFA, over 175,000 of Notpla's seaweed food packs will be made available to football fans attending the men's Champions League final in Istanbul, Europa League Final in Budapest and Conference League Final in Prague. Notpla says that packaging, lined with seaweed, is plastic-free, recyclable, home compostable and can degrade naturally within a matter of weeks.
Just Eat has worked with Notpla since 2018, which has seen the rollout of Notpla's seaweed-lined takeaway box across eight European markets.
If you liked this article, you might also enjoy:
McDonald's Director of Sustainability in Europe on the company's approach to packaging sustainability
McKinsey on whether or not on-pack sustainability claims affect consumer spending
Perspectives from industry-leading experts on the EU's Packaging and Packaging Waste Directive revisions
A deep dive into the most important packaging sustainability trends and solutions