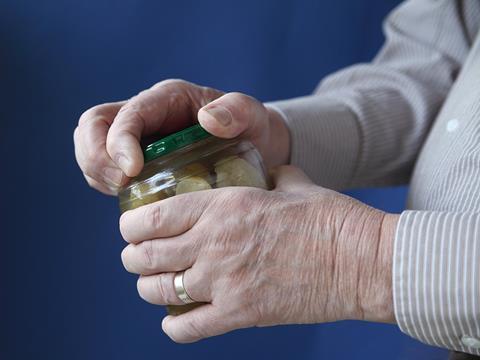 Struggling to open a jar or a vacuum sealed packet of meat or fish is something that everyone deals with from time to time. And sure, it can be frustrating, but usually we manage to get to the product inside without it being too much of an issue. Worst case scenario, we hand it over to someone else to do it for us. But when everything from your medicine to your food is in packaging that you cannot access, this becomes more than just a minor inconvenience.
Having a condition such as arthritis that weakens your grip and reduces your dexterity can make navigating packaging independently impossible. "People who have arthritis in their hands often struggle both with so-called "power" grip and "pincer" grip," said Dr Wendy Holden, consultant rheumatologist and medical advisor at UK charity Arthritis Action.
"In other words, they find it hard to grip items such as the tops of jars so that they can be unscrewed," she added, "or with gripping small items between index finger and thumb, for example the foil lids of plastic milk bottles."
This makes most packaging very difficult to open, Holden explained. "The worst offenders are probably the child-safe tops of medicine bottles, pills in push out packaging, toothbrushes in rigid plastic, card packaging and cleaning items or laundry capsules in child-safe containers," she said.
Jars and drink bottles are also difficult for consumers with arthritis, as as are plastic pulls on juice cartons. And, when consumers are not able to open items such as jars and cans the way they are intended to be opened, they may try to access the products using tools such as knives and scissors, sometimes resulting in injuries.
Pharmaceutical packaging poses another significant accessibility problem, particularly for those with Parkinson's- a neurological disease that affects movement. People with the condition often struggle to push their tablets out of the sleeves, which can make it more difficult for them to take their medication.
According to Laura Cockram, head of policy and campaigns at Parkinson's UK, the charity has seen an increase in reports relating to this issue in the past few years. "If these products are over-labelled due to other companies importing products, this can make it even more difficult as people have to push the meds through the foil and also the label too," she explained.
"Whilst this may sound like a small inconvenience, if people with Parkinson's don't get their medication on time it can seriously impact their health," she added. "They may not be able to move, get out of bed, swallow, walk or talk."
Especially since Parkinson's patients take medication multiple times in a day, dose boxes can be an effective solution to this issue. But these are often challenging to obtain from pharmacies due to how much time it takes to organise them. And for someone living with the condition, preparing all their doses at home in one go is sometimes also not a realistic option because of how much effort it takes to push out each pill.
57-year- old Richard Underwood who has Parkinson's explained that the fatigue and sensitivity he feels in his hands means that pushing out multiple pills from their packets requires "a massive effort". Underwood lives with his wife Hellen Underwood. "It's me that does all the counting out into the dosage boxes," she said.
He explained that he would struggle to sort the pills himself, especially since some of the medication he takes is prescribed in specific amounts, which adds another layer of stress to losing multiple pills or breaking them in half. "If I split one of these pills, and it goes across the floor, it's a nightmare, that could mean a half-hour job of me getting down on my hands and knees trying to pick it up, but the difficult part is then getting back up onto my feet," he explained.
"It wouldn't even matter if they came in a bottle, because I couldn't put my fingers in there," he said. "My grip is not so good, but my fine motor skills are affected the most." He commented that most people's Parkinson's symptoms get more severe with age, adding that he thinks "it would be nearly impossible for certain people to do it without a nurse coming in, or a carer".
Looking towards accessible solutions
A pill bottle designed by the online community of the popular video app Tik-Tok aimed to tackle the problem that Underwood and many other people with the condition face. It was prompted by a video of Jimmy Choi, who was diagnosed with Parkinson's at the age of 27 and uses his channel to show others the beneficial effects of exercise for someone living with the condition.
In the video, Choi showed how frustrating it can be to isolate and grab a single small pill from a pill box. After seeing this, Tik-Tok user Brian Alldridge designed a 3D printable bottle that would enable someone to take a pill like a shot, as opposed to having to pick it out of a container.
Alldridge's goal was to help lessen the struggle that people with the condition face when taking their medication. Although the initial bottle that he designed worked, there were aspects that needed to be tested and adjusted. That is when other users picked up the file and began working to create the functional end-product that is now ready for distribution.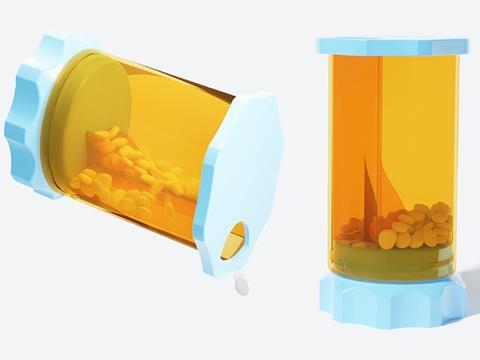 Cockram explained that "while not all people with Parkinson's experience the same symptoms, it is a movement-related condition, so making parts of packaging bigger is helpful as people can really struggle with fine finger movements." Underwood echoed this point, saying that making packaging larger across the board would address some of the accessibility challenges that he faces. "Everything, in my view, has to be bigger," he said. "So, if there's a seal and a little flap, I can't grasp it, but if there's a big flap, then I can better manage grasping it."
For those with conditions like arthritis, Holden said that tins are easier to open with manual or electric can openers than they are with ring pulls. She added that paper or cardboard packaging for food is more accessible, and that laundry detergent is more convenient to open when it is in a box rather than in a plastic container. Having a rubber grip on products such as jars and bottles would also help people with the condition to independently open and use that type of packaging.
Being able to use products without asking for the help of a carer or family member can be important in enabling people to live independent lives. "The idea that you have to rely on your children to come around your house to access the packaging is ludicrous, you wouldn't accept it in any other field," said Alaster Yoxall, professor of packaging ergonomics at Sheffield Hallam University.
"Can you imagine if your parents had to ask you to go round and open the car for them? You just wouldn't accept it," he said. "But, it's become an accepted norm around packaging: to just cope."
Yoxall is the chair of a working ISO group that has been developing guidelines on accessible packaging since 2015. "We're not talking about designing packaging for older people," he said, "what we're really talking about is designing packaging that actually works."
He explained that simply adding features such as serrated edges or notches can make a lot more packaging accessible for people with mobility or dexterity issues in their hands, but that there are also certain barriers to innovation that prevent the industry from moving towards more accessible design. "I think sustainability is such a big elephant in the room that people have forgotten about other aspects, and it's hard to concentrate on more than one thing at times."
The fact that "innovation often has to sit within the production parameters" poses another obstacle, he explained, as does what he perceives to be the industry's "reluctance to acknowledge the problem".
Designing for all abilities
Some brands are focusing on innovation to make products that are easy and safe to use for consumers with a range of needs. Creative design agency Wunderman Thompson and design studio Sour collaborated to create an accessible deodorant for Unilever brand Rexona. "We wanted to ensure that the one of the biggest personal care companies could ensure that their products are actually personal," said Christina Mallon, head of inclusive design and accessibility at Wunderman Thompson.
"Degree" deodorant is designed for people who have little to no mobility in their arms but can also be used by those who have some movement and strength. "I have dual arm paralysis, it happened about 11 years ago," Mallon explained, "so I have very limited grip and can barely grasp or lift up anything." She went on to add:
"We wanted to create a product that you can use with another limb, or with the aid of either a doorknob, a hook, or something that you can easily find within a hotel room, your grandmother's bedroom or in a bathroom.
"So, we really designed for the edge case, where someone who has no use like me would be able to use it… and then also made sure it worked for people that maybe have one hand or have some grip."
The hook on the cap of the product will enable someone to use their surroundings to open the deodorant securely and easily. Partner at Sour Pinar Guvenc explained that a cap that would click on was favoured over a twist or a flip cap.
She added that "in order to have a secure grip and be able to really apprehend and handle the bottle, we incorporated a void in the bottom that is large enough for a hand to pass through, maybe another limb to pass through- in Christina's case a foot to pass through- to be able to help with the application". The roller and the bottle were also made bigger than in other deodorants, while the oblong shape of the container is intended to make the grip more secure.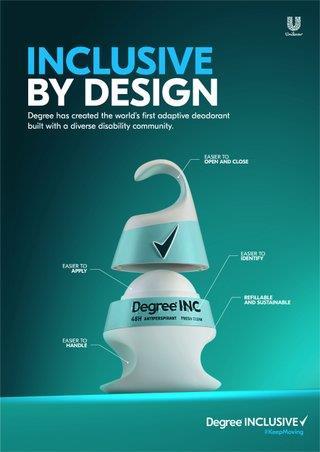 Guvenc said that the team prioritised collaborating with the community throughout the design process in order to enable them to design a product that would be truly useful for the consumers that it was aimed for. Mallon went on to add that participants were treated the same as anyone else on the team by being paid a salary and being consulted throughout the process.
"A lot of times with focus groups, you pay them a small amount, they answer some questions, and then they never hear anything about the project, and there's really no investment in the lived experience," Mallon explained. The team enabled participants from the community to "have influence on everything around the actual product," including advertising and communications.
The Easy Open Lid recently launched by Olay North America is another example of a design inspired by the needs of consumers with disabilities, including those with reduced strength and dexterity. The winged lid is raised for enhanced grip and includes a high contrast label and braille for those with vision impairments.
According to the company, it will be available for their most popular products, which are the Regenerist Micro-Sculpting Cream, the Vitamin C + Peptide 24 Face Moisturizer, the Retinol 24 Face Moisturizer and the Collagen Peptide 24 Face Moisturizer. The lid- free with the purchase of any of the four products- will not be patented, and will be shared with the industry in an effort to make more products accessible to people with all abilities.
Like the Easy Open Lid, EEASY lid by American company Consumer Convenience Technologies (CCT) aims to address the accessibility issue that is posed by hard-to-open lids on products. According to the president at CCT Brandon Bach, the purpose of the lid is to make an everyday task easy for everyone, so that people "can focus on other things that truly matter, not opening a jar".
Bach explained that the lid is 50% easier to open than traditional jar lids because of its reduced vacuum setting. A button in the centre of the lid is pressed by the consumer to release the vacuum and make the lid easy to open. It can be pressed again to reset the lid and store the food item inside, avoiding any leaks or spills. The new design will be available both as a lug and a continuous thread lid.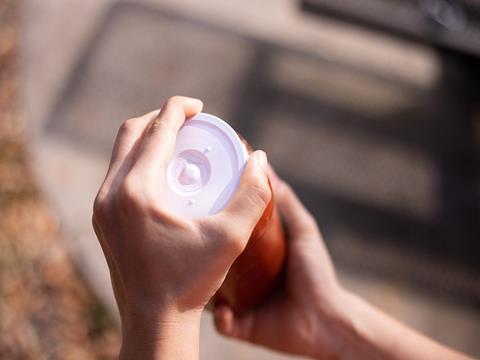 The project started when a friend of the co-founder Pete Stodd discussed with him the problem that she was having opening jars while undergoing treatment for breast cancer. The treatment had reduced her strength and made it difficult to access this type of packaging, so she asked whether a lid could be designed to accommodate her needs.
"We hope to make it the industry standard," Bach said. "By being all inclusive, you're opening up the market segment that might not be buying your product because they can't open it." CCT hopes to bring the EEASY Lid to Europe and the rest of the world and is patented worldwide.
"The disability community has a disposable income of $8 trillion- that's the size of the disposable income of all of China," Mallon said, "but because people often don't understand disability, and that every person will experience disability at multiple points of their lives, they don't get those concepts, they don't see that the money's there." She added that "in reality, email, touchscreens, self-driving cars, all of that technology has been designed for the edge cases but now it's better for all."
The impact of inaccessible design on brands
Companies are increasingly recognising that accessibility is an important factor to consider when designing packaging that meets the needs of consumers. "Although sustainability has become the key factor in current plastic packaging design, there are still other elements that contribute to a successful new product development," commented Brian Lodge, UK design director at Berry Global. "One of these is undoubtedly accessibility."
Packaging that is difficult to open and use can be the reason that consumers stop purchasing the products of a particular brand, Lodge explained. He said:
"We know the ultimate success of a piece of packaging is inherent in its usability. If it is difficult to open, pour from, hold, dispense or whatever else it is meant to do, then a consumer will be turned off.
"This will affect the brand and brand values of the product that the pack holds and may well result in the consumer choosing a rival product in a pack that is easier and more convenient to use. Just as important, from a safety perspective, it is vital to avoid people using inappropriate tools like knives or screwdrivers to attack packs that prove stubborn to open."
Berry has created a new type of tethered closure system driven from the introduction of the Single Use Plastics Directive. Lodge said that the company has "adapted tried and tested manufacturing techniques" and have investigated how their consumers interact with bottles with these closures. "We know that diameter, the details of the grip features, depth and even colour can play critical roles in how easy a closure is to remove from a container," he added.
But there are also certain limitations to designing accessible packaging, Lodge explained. For example, packaging is often legally required to meet certain child-safe criteria, or to have tightly screwed tops that help preserve and protect the product inside.
Another issue that companies face is the range of consumer needs that they have to consider when designing functional products. "One of the biggest difficulties I have in talking about inclusive design… is explaining the range and diversity of disability within the umbrella of each specific category," said Eric Harris, head of research the Research Institute for Disabled Consumers (RiDC).
"If you have mobility, strength or dexterity impairments or challenges, that can mean so many different things," he explained. People can often have multiple disabilities as well, which makes identifying the specific needs of a group of consumers even more complicated. "Up to about 70% of people have more than one disability at a time," Harris said. "Disability isn't singular, typically."
"There is always a conflict between "easy to open" and product safety, and in some cases, there is also legislation to consider," Lodge said. "Ultimately, a successful design provides the most effective combination of a number of important factors which alongside accessibility also include aesthetics, functionality and, of course, sustainability."