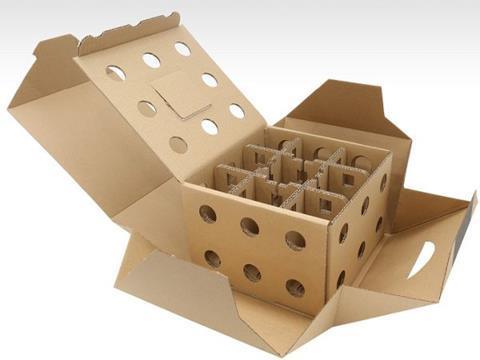 DS Smith invents a revolutionary new type of packaging for Carbones Fergon, Spain's largest producer of vegetable coal and supplier of fire lighting and combustion solutions.
Based in Huelva, Spain, Carbones Fergon supplies fire lighting and combustion solutions for barbecues and fireplaces and is committed to maintaining the "highest standards in ecology, quality and cleanliness".
It approached DS Smith with a unique challenge. Coal briquettes are traditionally packaged in paper bags that can lead to dirty hands, stained clothes and empty packaging that had to be disposed of after use. In addition, these fragile paper bags often rip at some point along the supply chain and arrive at the point of sale in poor condition, leading to unnecessary losses and coal dust in lorries, warehouses and back-of-store.
Carbones Fergon had previously tried to tackle some of these issues with a cage and cardboard box solution but the dust remained an issue. With this in mind, it approached DS Smith and asked it to devise a sustainable packaging solution that would facilitate transport and storage, allow the carbon briquettes to be displayed on the shelves, whilst also making it possible to use them cleanly and safely when lighting a barbecue.
After meeting with Carbones Fergon, DS Smith designers set to work to create an innovative solution for the coal briquettes that would work throughout the supply chain - from the factories in Huelva to the end users at home. The outcome is the new WonderGrill Box – a completely revolutionary solution for the industry.
The packaging was completely redesigned, from the central structure in the form of a cage, through to the outer box. DS Smith created a sealed rectangular box, without grooves in the base, so that the coal dust could not leak out. Carbones Fergon wanted the boxes to be impregnable and this requirement was successfully achieved by incorporating a latch in the flap of the closure, which hooks into a groove in the box once it is closed.
Thanks to this new packaging, the end user simply has to open the upper flap of the exterior box, which is now pre-cut. Once the flap is lifted, the coal briquettes can be lit in the central part of the cage. In this way, the packaging itself is used to light the barbecue, leaving no waste and consumers do not handle the coal briquettes, eliminating the need to get dirty.
The new design hit the shelves to great acclaim - Carbones Fergon has seen a growth in sales thanks to premium position, clear differentiation in the market and the superior customer experience.
Marcos Fernandez, CEO of Carbones Fergon said: "DS Smith understood every element of our brief and exceeded our expectations with the WonderGrill box. The easy opening and lighting function has made a tangible difference to our customers and this has resulted in significant sales growth. What's more, we have improved the environmental performance of the product as there is no waste to landfill and less loss in the supply chain, something which really matters to our company and our customers."
Covadonga Serrano of DS Smith, said, "Our designers relished the opportunity to transform the way we barbecue. By creating the WonderGrill, we have come up with a game-changing solution which has resulted in sales growth and real added value to the end user. This is what we strive for at DS Smith – innovative solutions which enhance product performance and perception; removing inefficiencies and waste in the supply chain and improving overall environmental performance."
More info: