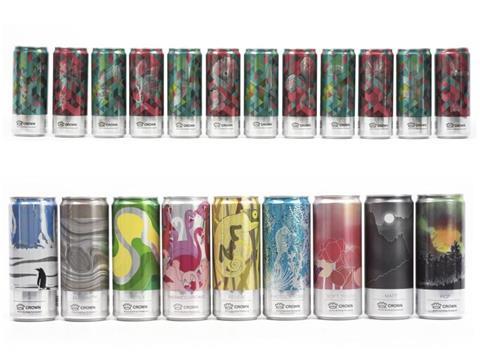 Crown has worked closely with its IoT Smart Products Platform partner EVRYTHNG, a Platform-as-a-Service company that enables smart products and smart packaging to drive IoT applications, and Zappar – UK-based creators of an app that uses augmented reality (AR) to help people recognise images and objects in the world around us. Matt Twiss, Marketing & Business Development Director at CROWN Bevcan Europe and Middle East, tells Packaging Europe: "The major benefit of these technologies is the immediacy with which a brand can connect directly with a consumer. CrownSmart™, for example, begins the process at the very moment a consumer opens the can and scans the code. At this point, brands can start to gather valuable, real-time purchasing and consumption data, including who opened what content and when and where the code was activated. This information allows brands to connect with consumers in 'real time' and will, in turn, help brands tailor both current and subsequent campaigns to stay aligned with consumers' behaviour, desires and needs."
Drinktec visitors will firstly be able to experience live examples of consumer engagement with uniquely identified products and then follow a demonstration of brand owner dashboards that provides an insight into the analytics that can be employed to measure consumer engagement, influence brand strategies and flexibly manage the supply chain.
Matt Twiss added: "Products that are #BornDigital™ in this way have the potential to deliver applications, experiences and analytics at every stage of their lifecycle; from the time they are made, shipped and sold to the moment they are consumed and responsibly recycled. As the appetite for digital consumption grows, the potential for creating engaging experiences via smartphones and packaging is virtually limitless. Brands adopting smart packaging techniques and taking advantage of this new stream of data will be well positioned to reinforce brand activation through targeted exposure, drive new and repeat purchases and optimize their supply chains by improving product traceability." With industrial IoT adoption growing, an exciting future lies ahead for beverage brands who wish to utilise Crown's innovative technology to access valuable consumer data and create unique experiential content to drive greater consumer engagement.
Finally, experts on stand are able to talk through unique options with visitors based on individual requirements, at the same time reinforcing the fact that metal is the number one packaging material for those with an eye on sustainability. Over its 125 years in the industry, Crown has been a pioneer in driving sustainable practices and initiatives and is a driving force behind Metal Recycles Forever™. As demand for metal packaging has continued to increase and Crown's global footprint has grown, the company is committed to reducing overall energy consumption and greenhouse gas emissions. Responsible resource management is at the heart of Crown's business, and by adopting metal packaging, customers can be sure that they are working with a material that is infinitely recyclable and that will always be available for future generations.
More info: