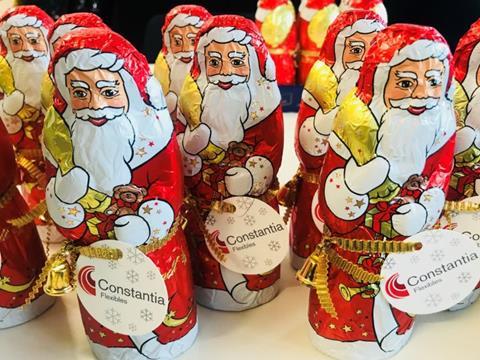 Every year, Constantia Flexibles manufactures packaging for more than 50 percent of the 150 million chocolate Santa Clauses produced in Germany.
With the company's patented Tepro2® method, they can be unwrapped in one piece without breaking the chocolate. The aluminum foil prevents the migration of printing ink components and other substances from the outside and offers complete protection from the light.
Around 1820, the first Santa Claus figures started to be made from solid chocolate. Approximately 20 years later, they were produced for the first time as hollow bodies in the form which is used today. Constantia Flexibles has a long history of producing printing foil and film for Santa Clauses, Easter bunnies and other chocolate figures. Every year, the company ensures that the chocolate Santa Clause gets its typical appearance. The patented method, which involves aluminum foil being produced industrially and rolled, has been in existence for more than 100 years. Since then, chocolate producers in Europe and the USA have been wrapping their products in aluminum foil.The biggest advantage: "Aluminum foil does not interact with the chocolate at all. Thanks to the manufacturing process, the surface is free of contaminants and does not support the growth of any microorganisms. The low restoring force of the aluminum foil allows the foil to be wrapped tightly around the chocolate product during packaging", said Stefan Grote, EVP Group Technology and Food Europe at Constantia Flexibles.
Custom-made aluminum materials and state-of-the-art technologies combined with decades of experience in design and packaging production guarantee that food manufacturers can provide chocolate figures with the right "attire". The possibilities range from low-priced products in a mixed bag to glossy golden premium products at the point of sale.
Edged facial traits or very pointy feet could lead to problems when the Santa Clauses are wrapped up – the innovative Tepro2® wrapping foil helps avoid that. It is a combination of aluminum with very thin OPP (Oriented Polypropylene) foil. The foil displays excellent tear strength while staying easy to wrap. Tepro2® foil thus also enables the implementation of creative ideas like new contours on chocolate figures.
In addition, the latest development enables consumers to unpack hollow figures in one go, without tearing. For this purpose, a special lacquer has been developed which is applied on the outside or inside of the film. This lacquer functions like a rubber band preventing the foil from breaking down small pieces when it is removed.
In addition to Europe, many Santas are exported to the United States, Australia, India and even to Japan to make sure that everyone has something sweet for Christmas.
More info:www.cflex.com