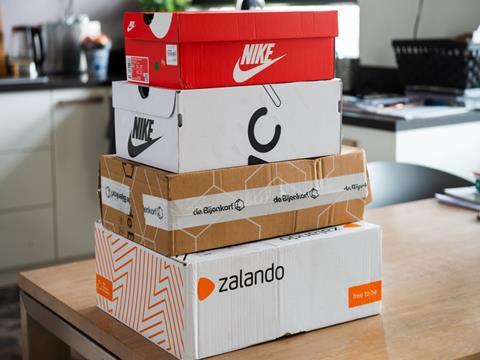 When so many retailers offer free returns, people can easily be lulled into thinking there's no cost attached. Business leaders are quickly realising that isn't the case, with reports showing that the "reverse logistics" of returns cost UK retailers £60 billion a year. So, what's causing this epidemic, how is it affecting retailers, and what can they do to fight it?
Packaging providers DPack recently investigated the impact of returns and which retailers were handling them the best (and the worst). Based on this research, the company offers retailers advice on what they need to know about the cost of e-commerce returns.
The state of returns
Retail is the backbone of so many economies and the transition to online shopping was always going to start waves we might not notice until years down the line. If you already run an e-commerce business, you've likely already felt the impact of returns on your bottom line.
When buying online is so easy, people expect returning what they bought to be just as simple. In the early days of online retail, businesses offered free delivery and returns to convince people to shop online when it wasn't so commonplace. Now that e-commerce accounts for 28.9% of retail in the UK, according to the Centre of Retail Research, many businesses are burdened with that promise of free delivery. If they remove it, they fear customers may just take their money to a competitor that does offer it instead.
That leaves many businesses sorting millions of returns out of their own pockets, and that cost is to the tune of £60 billion a year for UK retailers. It's also a problem in America, with 3.5 billion products returned a year, representing about $120 to $150 billion of value in the holiday season alone.
While people may cite damages as the reason they're returning an item to save face, it seems that products typically come back in great condition. In an interview with BBC, a returns department revealed that when they take returns through a checking procedure to see if they're damaged or reusable, "roughly 95% pass first time".
How does this affect retailers?
If you deal in e-commerce, returns likely place some strain on your operations. According to RSR Research retail analyst Paula Rosenblum, retailers lose a third of their revenue to returns. Outside of the financial toll, there's also a question of space.
Warehouses in the UK are already being pushed to capacity. Adding piles of technically pre-owned stock, which in most cases need additional legwork to be sold again, is adding a huge burden to the shoulders of many businesses.
Fashion retailers in particular have it hard. With many people now swapping the 'privacy' of a thin sheet of material on a busy shop floor for the safety of their own home, people simply can't try on clothes before they buy them online. Inconsistent sizing (a woman may be a size 8 in one brand and a size 10 in another) is one of many factors that mean 19% of consumers buy multiple variants of the same item, so they can just return the one that doesn't fit.
No matter what industry you operate in, poor returns can massively affect your reputation, too.
DPack's research into returns showed how important free returns and quality return policies are to consumers. 9 of the 10 retailers investigated provided free returns, while the companies with the top three ranked return policies also had the three highest TrustPilot scores.
Claire Leech, managing director of DPack, says: "Businesses have already admitted to increasing the cost of their items to balance out their revenue loss as a result of returns. We believe that we might start to see more businesses introduce return fees like Next currently do."
The promise of free returns even has less practical, but equally important, implications.
Laura Morroll, the managing consultant of LCP Consulting, had this to say about returns: "Customer research carried out has revealed that the offer of free returns is perceived by customers as a statement of confidence in the brand. There is something reassuring about shopping with an online store that is sure enough about the quality of its products that it is happy to offer returns for free."
What retailers can do to minimise losses from returns
According to uShip, 1 in 5 online purchases arrive damaged. So, there's a lot that retailers can be doing to minimise their damages from a financial standpoint here. Packaging should be your first defence against returns, so be sure that they keep the product safe.
One way to do that is to consider its entire journey from A to B. Can the packaging support other items being placed on top of it when stacked in a truck? Could the vibration of a conveyor belt dislodge any components or screws? Just shaking the box to see if it feels safe could be costing you money you don't want to lose.
Not only the packaging itself, but the act of putting the product in there should also be reviewed. Poor tools or processes could be causing unnecessary damages at the packing site, before it's even been shipped and has to deal with exterior forces. Of course, you'd likely never know if these accidents happen on the road or in-house as you'd only get the feedback about damage once it's been shipped and opened by the consumer. Then you're welcoming poor reviews, slander on social media or the logistics of a return.
It can help to consider online product listings like a new form of packaging for the modern customer. After all, that's what they're exposed to before they ever interact with or buy the product. With that in mind, you should have clear images of your products from multiple different angles, on top of extensive copy describing it. Not only is this good for giving the user a clear idea of what it is they are buying and minimising any surprises, but it's also good for optimising your page for search engines.
A simple, easily accessible returns policy should also be available. Users should be able to reach this no matter what page they're on, as DPack's research found that customers loved having the policy linked to in a website's footer so they're always one click away from it. This can cut out people potentially sending returns when the window for doing so has passed, or them sending the wrong materials back and introducing even more steps into this logistical minefield.
Finally, encourage feedback from your customers and pay close attention to their issues. While there might be some comments that are unfair, inaccurate or simply can't be addressed, you should always search through these for anything actionable. This may mean paying closer attention to your email inbox or reading and replying to reviews on TrustPilot.
What might change in the future?
While there is clearly a huge financial toll, there is also a cost beyond simple currency: carbon. As if enough of a footprint wasn't created by getting products into the customers' hands, getting them back to where they came from essentially doubles this impact.
Many retailers also opt for simply dumping these returns, as it can be the option that requires the least legwork. Why bother cleaning, filing and reviewing products when you can just dump them in a landfill? This is leading to a 2.2 billion kilogram burden on the planet, every year.
This may end with government intervention, forcing businesses to reconsider how they deal with returns. There's also a good chance that in a few years' time, consumers will look back and think how lucky they were to have free returns from so many companies. Either that, or they keep the appeal of the free returns at the expense of rising product costs.
Regardless, it is the consumers that may have the biggest part to play in this. Not those that simply shop online, but the one in five of us that buy with the intent to return. We hope those people realise that the shoes they don't quite like that shade of black on don't always just end up being resold, but in a landfill and adding to the statistics that every e-commerce retailer needs to be seriously considering.